CPYU Parent Page – February 2021 Issue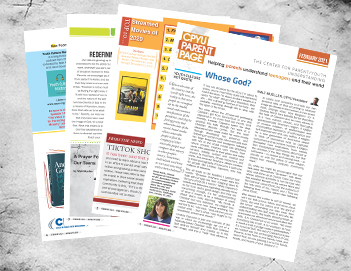 This is a downloadable, 4-page pdf of the February 2021 issue of the CPYU Parent Page. You can purchase and download this individual issue if you'd like to "sample" this monthly subscription resource.
In this issue:
Whose God?
Youth Culture Hot Quote: Karen North
Top 10 Streamed Movies
Quick Stats:

Social Media Effect
Super Bowl Commercials

TikTok Shoplifting
Redefining Freedom
Weight Loss Goals and Disordered Eating
A Prayer For Our Teens
From The Word: I John 2:28
Helpful Resource: Another Gospel? A Lifelong Christian Seeks Truth in Response to Progressive Christianity
Churches and youth workers are encouraged to distribute an unlimited quantity of the .pdf to the parents of teens in their congregation. You can do so digitally by passing along the .pdf via e-mail, or by printing physical copies for distribution at church or through the mail. (We do kindly ask that it not be posted publicly to a church website or social media pages.)
Churches can also subscribe to this resource and receive 12 issues a year for $60. Learn more here. (You will be redirected to another website)
The CPYU Parent Page is a monthly newsletter designed by the Center for Parent/Youth Understanding to help keep parents informed about the latest happenings and trends in the world of youth culture. Churches and youth groups, Christian schools, and other youth organizations can subscribe to this easy-to-use resource and are encouraged to distribute it to the parents of their teens. Individuals may also subscribe.
To learn more about this resource and to subscribe, please visit www.cpyuparentpage.com. (You will be redirected to another website)