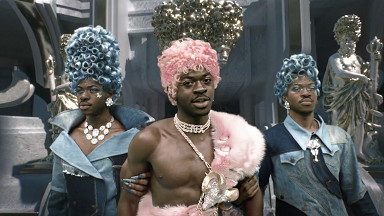 After being named by Time as one of the 25 most influential people on the Internet (2019), the
22-year-old gay rapper Lil Nas X (real name Montero Lamar Hill) rocketed to music stardom. Already
a Grammy winner, he released "Montero" as a single in March of 2021. The song's subtitle is the
name of the 2017 gay romance film, Call Me By Your Name, which hints at the song's content. It
debuted at #1 on the Billboard Top 100 chart, and has charted at #1 in a variety of countries globally.
The video won the coveted Video Of The Year Award at the 2021 MTV Video Music Awards. To date,
it has been viewed on YouTube over 350 million times. (Editor's note: while the "Montero" video is
popular in today's youth culture, we recommend cautious viewing only by mature adults).