Dave Matthews is still looking. While it's heartbreaking for those who have been embraced by the One he is seeking to look into Matthews' search for redemption through the window of his music, it's a window that offers glimpses of the truth.
I began my own celebration of Good Friday watching Matthews' "Gravedigger" once more. It's a haunting reminder of how the fall has touched us all. We experience the results of our rebellion against the Creator – yes, even the redeemed – through the multi-faceted curse of brokenness, pain, heartache, the sufferings of life, and at the end of this life. . . through physical death. Matthews obsesses about death in his music. Much of his own suffering has come through the death of people close to him, and he questions the when's, what's, why's, and how's of his own certain demise. "Gravedigger" is one of the most poignant expressions of these universal realities I've ever seen in the world of popular music.
I saw an expression of the same gnawing truth a few years ago on a visit to a very dark place. A young man who had recently come to faith wanted to introduce me to some friends who were spinning their wheels in the black hole of depression and spiritual death. The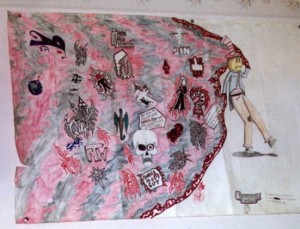 y "ministered" to themselves and each other through chemically-induced mutual escape. Their house was literally dark. It was the middle of the day but the shades were down. Their lives were even darker. It was one of the strangest and most disturbing encounters I've ever had. During the course of our conversation, my young friend asked one of his peers to show me the piece of art he had been working on for quite some time. The work in progress showed a sad clown. The young artist explained that he was the clown. All the stuff he pulled behind him was "my baggage." There in the baggage was the acronym "S.I.N." I asked what it meant. He replied with a tone of nihilistic pessimissm, "suffering is necessary."
Last week I ran into an acquaintance who has experienced more than what we humans call a "fair share" of suffering. This time he was walking hard as part of an exercise program designed to slow the effects of a debilitating disease that he's been told should have had him in a wheelchair by now. His outlook was positive and he's working to plow through the physical and mental anguish that are so much a part of his life. It didn't start for him with the disease. The loss of two very young children years ago is something he's still carrying. We talked briefly about his suffering, the resulting questions, and his efforts to figure out God. This man is still seeking. From a human perspective, it seemed to me like he's close. I listened. He talked about how suffering, death, and disease have brought him to where he's at. Retirement came early, very early, out of necessity. He looked at me and said, "If I didn't have to get outside to walk, or sit alone in my recliner for hours on end, I don't think I'd be taking the time to ask the questions I'm asking or to learn what I'm learning about life." His suffering is taking him to where he needs to be.
Three of the books I've been reading are serving to crystallize my growing understanding of suffering. In many ways, they've been timely reminders and even corrective. My childhood Sunday School years were filled with songs and stories that somehow combined to leave me thinking that coming to Jesus was coming to peace, joy, happiness, and a life void of hurt or pain. Somehow those things eclipsed the fact that Jesus never said "Follow me and be happy," but "take up your cross and follow me." Or, that most of the Old Testament stories are about God's faithfulness in the midst of deep human pain and suffering. Or, that much of the New Testament was written to correct errors and divisions that were at the root of much relational brokenness and suffering.
Tim Keller's amazing new book, The Reason for God, addresses doubt, including the doubt that is driven by the question, "How could a good and loving God allow people to suffer?" Keller offers compelling explanations and arguments too numerous to explain here. But listen to these words that are especially timely on Good Friday: "If we again ask the question: 'Why does God allow evil and suffering to continue?' and we look at the cross of Jesus, we still do not know what the answer is. However, we now know what the answer isn't. It can't be that he doesn't love us. It can't be that he is indifferent or detached from our condition. God takes our misery and suffering so seriously that he was willing to take it on himself. . . . So, if we embrace the Christian teaching that Jesus is God and that he went to the cross, then we have deep consolation and strength to face the brutal realities of life on earth. We can know that God is truly Immanuel – God with us – even in our worst sufferings." Keller goes on to describe how Jesus suffered for us and with us. And, how it is through suffering that growth comes.
In his book Depression: A Stubborn Darkness, Ed Welch says that "depression is painful. It is a form of suffering." Welch reminds readers that almost every page of scripture offers insights, direction, and encouragement about suffering, including the fact that suffering serves a purpose in our sovereign God's grand scheme and design to bring us into conformity to His image. What does James 1:2-4 have to say about depression and suffering? – "Consider it pure joy my brothers, whenever you face trials of many kinds, because you know that the testing of your faith develops perseverance. Perseverance must finish its work so that you may be mature and complete, not lacking anything." Welch goes on to say that since James speaks of trials of many kinds, he is "inviting those who experience depression to learn that, whatever the cause, depression will reveal our faith and serve as a catalyst for growth rather than a reason for despair."
Then there's Michael Card's wonderful book – A Sacred Sorrow – on recovering and using the lost language of lament as we reach out to God. Card says that throughout the Scriptures, true worship always begins in the wilderness. "Praise is almost always the answer to a plea that arises in the desert." "There can be no worshipful joy of salvation until we have realized the lamentable wilderness of what we were saved from, until we begin to understand just what it cost Jesus to come and find us and be that perfect provision in the wilderness." Card takes readers through the lamentable life and experience of Job, showing how suffering is necessary – "Without the pain, Job might have never realized either the depth nor the dimension of this kind of relationship with God, and perhaps never would we."
On this day that we remember the divine suffering that gives us life, perhaps we should not only offer our thanks to God for the suffering of His Son and for what it has accomplished in our lives. In addition, we should thank God for the sufferings of life that take us deeper in our faith and knowledge of Him. Perhaps we should pray as the Puritans did, "O, thou Father of my spirit, thou King of my life, cast me not into destruction, drive me not from thy presence, but wound my heart that it may be healed; break it that thine own hand may make it whole."
The amateur artist who lived in the dark got it right – suffering is necessary. How has God used suffering in your life?