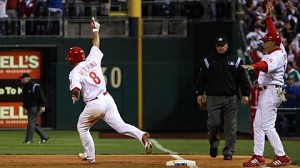 So some of you have been wondering about my silence regarding my beloved Phillies. It's called caution. And it's a caution that's grown out of experience. You have to remember, my two most vivid early cultural memories were the assassination of JFK in 1963 (Second grade), and the late-season collapse of my beloved 1964 Phillies (Third grade). For what it's worth, 1965's personal tragedy arrived in the form of having a girl push me face-first into my locker, which resulted in the loss of a front tooth, which in turn has resulted in dozens of hours in the dental chair and thousands of dollars in dental bills in the years since.
But all of that's forgotten – mostly – this morning as I sit in anticipation of our first World Series appearance in 15 years, and maybe – just maybe – our second World Championship in 126 years. I've been quiet because the Phils had to get past the Dodgers. I happened to be in California while the Phillies were playing there. My buddy Chap Clark, a Dodgers' fan, sent me a stream of harassing text messages beginning with "Dodgers in 4!" That was followed up with "Dodgers in 5!", "Dodgers in 6!", "Dodgers in 7!", and then finally, "Rockies in 8!" (which was the equivalent of a white flag).
So now we're there. My antique Phillies Bobblehead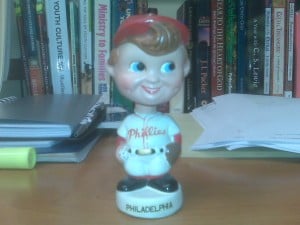 – purchased at Connie Mack Stadium during the aforementioned 1964 – is sitting happily on my desk this morning. . . . even though he has a broken neck. And I'm especially excited as Lisa and I were able to be in the stands during what many in the Philly media are calling one of the greatest nights in Phillies baseball history (thank you Chris. . . I still owe you a kiss for that!). We watched as Brett Myers rattled C.C. Sabathia and got the fans all riled up in a maddened frenzy. Even better, we got to see Victorino (is there anyone more fun to watch in MLB today?) hit that slam. I was only able to watch on TV when the Tugger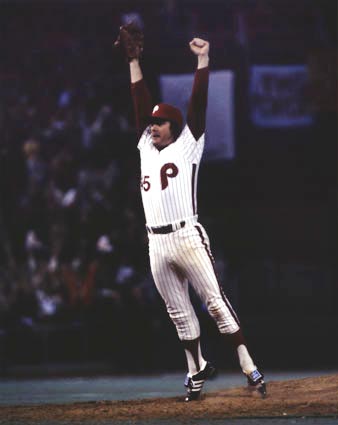 jumped off the mound with his arms in the air back in 1980. I can say I was there when Victorino's picture – which will live on in Philly sports history – was snapped. You know what made it even better? I had just finished downing a Philly cheesesteak when he got that hit. Does it get any better than that?
Sadly, I'm getting on the turnpike in a couple of hours to head west to Pittsburgh. I'll be watching tonight's game in the comfort of a lonely hotel room. Doggone it! It was a joy to stay up late with Josh to watch the Phils win the pennant the other night. He was sad, very sad, when as a seven-year-old the Phils lost in '93. I wish I could watch with him and the rest of the family tonight. Oh well. If we win, we're going to the parade!
So. . . a couple of thoughts to put it all in perspective. First, let me sound like a follower of the Phils: Does anybody out there think Tampa deserves this? Come on. The franchise is only 10 years old. Not 126. And, isn't this the franchise with the fans who didn't start showing up until. . . last week? Oh, so NOW you like your team?!? I'm sorry. I'm a part of a team following that's consistently been labeled the most loyal and knowledgable fans in baseball. you have to be when you endure your share of losses from the professional sports franchise that holds the record for more lossess than any other. Let me enjoy being a "homer" for a little while.
Second, let me speak to the World Series from the perspective of a follower of Christ. Baseball's a great thing that we need to embrace and enjoy. The image of God shines through in the game's strategy, order, beauty, and athleticism. But just remember, if you're a Phillies fan and the Phillies win, it won't last. It won't make life any better. Oh, it will be fun. But the momentary thrill of victory (which I long to experience again!)is no substitute for the joy of ultimate redemption. In other words, the ache that was there for fans who live for Phils, will come back sooner than next season's first pitch is thrown. And if we lose. . . well, it's not the end of the world. Yes, we need perspective.
Now. . . one last thing. . . . Hey Chap. . . . Phillies in four!