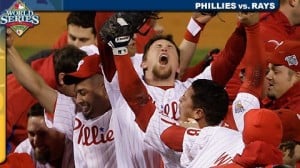 So last night it happened. . . the Phils won the World Series! As the game went into the top of the ninth with the Phils up by a run and Brad "Lights Out" Lidge on the mound, I turned to my wife and tried to explain what it meant. "As a little boy, this is what you dream about," I said. "The dream has only come true for me once before. On three occasions I was nothing but teased. That's why I'm excited about what I hope's about to happen." She smiled at the little boy who had done the explaining. A few minutes later, we smiled together as a bunch of overgrown boys in flannel suits pig-piled in celebration. It was fun to watch.
I had a difficult time sleeping last night as a cascade of baseball memories flipped through my head. Like most people, I can chronologically chronicle my life with song titles from the world of popular music. My ongoing love for the brand of America's National Pastime played by the Phils has served me in the same manner. I can chronicle my life – remembering my age and where I was when. . . – with my baseball memories. My first time visiting Connie Mack Stadium. . . and several times thereafter. Remember when we went to Connie Mack with the church and the guy sitting behind my Sunday School teacher, Mr. Mock, spilled a watery beer from his paper cup all over the poor man? The "world" had literally touched and saturated a member of our group and Mr. Mock's shirt to the point where we smelled ice-cold Ballantine all the way home, and some in our group wondered what poor old Mr. Mock was going to tell his wife! That same night, my dad graciously purchased me a Foremost Wiener that I promptly drowned in spicy brown mustard. I cradled it carefully in my hand with a thin piece of tissue paper that had been wrapped around the bun by the vendor. I was so engrossed in the splendor of the game that I finished my dog and wondered where I had put the paper wrapper. I then realized that I had eaten a hot dog, a roll, some mustard, AND the tissue paper. It seems that there are baseball-watching memories (many sad – I'm a Phils fan, remember) that coincide with every year of my life. Then there were my high school and college years, complete with the dozens of trips down Broad Street to the Vet with the Phillies-watching quartet that included me, Randy, Curt, and Dick. Man, did we ever have fun. Then, we'd gorge ourselves on "soft pretzels! Five-for-a-dollar" purchased from any number of shady post-game parking lot characters who used their bare hands to break off those pretzels from the lines that filled their rusty old shopping carts. (We weren't as concerned about sanitation and disease back then.)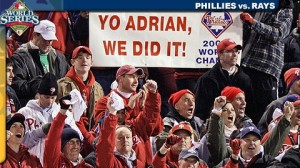 Childhood was also filled with baseball-playing memories. From our home-made diamonds and after-school backyard games at the Heilman's and Katz's, to my little league days at Alverthorpe Park, to Home Run Derby played in the front yard with a yellow plastic wiffle ball bat and humming wiffle ball (Off the front of the house is a single, low roof a double, high roof a triple, and over the roof a home run. . . . and, did you know that a wiffle ball can be hit hard enough to go through a window?), to the days when everyone else was on vacation and I was reduced to throwing pop-ups to myself in the driveway (every one of them the last ball hit in the two-out bottom-of-the-ninth of the 7th game of the World Series. . . and Oh how I remember the time "we" lost the game when that beat-up old rubber-coated hardball went past my outstretched glove to hit me square in my nose. . . which then bled profusely – game over), to evenings during high school and college spent shagging fly balls with my buddies Curt, Randy, and Dick.
To be honest, there were also those times in my adult life when I tried desparately to recover or at least catch a glimpse of what could have been (ie – my professional baseball career. . . come on. . . we all dreamed about that at one time). On my 40th birthday I wanted to see if I could still hit a ball. I took a couple of high school baseball players down to a full-size field in Marietta that sported a left-field fence with the same dimensions as Veteran's Stadium. Hit one out – I reasoned – and the dream could live on. The good news is that I put three balls off the left field fence on the fly. . . but none went over. Dream alive. . . sort of! Then seven years ago, a friend asked me to join his team for a good-old-fashioned game of hardball at a local field of dreams facility. After dressing in gray flannels in a barn next to the stadium, I got to catch, play third, and go into the outfield. The guest pro that day was Gaylord Perry, who just so happened to umpire and call me out on strikes (yes, he's blind). The good news was that during my first at bat I put one over the center fielder's head and to the wall. Dream alive. . . sort of! However, what should have been a triple turned into a double as the guy on base ahead of me was so slow that even I was able to catch up with him after rounding second.
Reality is that the dream was only ever far-fetched. I no longer watch the games and the players thinking, "Hey, I could do that." I'm even old enough to have moved beyond looking at the umpires and thinking, "Hey, I could do that." I've had to come to terms with the fact that perhaps the great majority of major league managers and coaches are. . . .well. . . . younger than me! . . . Thus leading me to conclude, "Hey, I'll never do any of that." Still, I continue to go out in the yard and throw the ball with Josh.
So here's where my baseball dreams sit today. . . and I don't think they are at all unrealistic. The Heaven so many of us look forward to isn't really what Heaven is going to be at all. Clouds, wings, streets of gold, harps, etc. That's not what we can expect. Don't get me wrong. There will be nothing to compare with being in the presence of the Lord for eternity. But those false notions of Heaven always struck me in my humaness as somewhat, dare I say, boring. Heaven will ultimately be the restoration of all that has been broken by sin here on the earth. I look forward to a new Heaven and new earth, all minus the horrible flaws that have become so familiar. And, I believe, there will be baseball . . . along with alot of other amazing things we never expected. A major league? I'm not so sure. Maybe. But the game? It will be there, and I'll be playing. It might not be pretty (my play, that is), but I know that I'll enjoy every minute of it!. . . . to an even greater and incomprehensible extent than I enjoyed watching that fun group of guys pile on each other last night.
If you're a Phillies fan and you found yourself last night celebrating by saying "It doesn't get much better than this!," you're wrong. It's going to be a whole lot better when our Heavenly Father opens the page on the Chapter in His story that's titled "Consumation". . . the one that follows the prior three chapters of "Creation," "Fall," and "Redemption." Everything will be awesome, including the baseball!
And the other day, I eyed up a low-priced bag of balls and nice wooden bat at Sports Authority. . . which I'm going to pick up for a long-overdue office game of Home Run Derby at our local ballfield. Who's going to hit the ball the farthest? We'll find out!