Yesterday was the holiday we know as Thanksgiving. As a Christian, my memories are of Thanksgivings that had an aspect of deep gratitude towards God for His multiplicity of physical and spiritual blessings. As an adult, Thanksgiving has become a day of contrasts. Our culture is changing. On the day we should be thinking thankfully about good stewardship, we've gotten all wrapped up in spending.
I've got the feeling that we need to dig deeper and deeper to remember and celebrate what Thanksgiving is really about. That's one of the ironic detrimental results of abundance. . . . . so much stuff that we fail to see, recognize, or remember the Source of it all. In other words, we should be more thankful than ever for what we do have. Instead, we tend to complain about never having enough. And then we spend a good chunk of the day planning our route to redemption through the accumulation of stuff on the day after.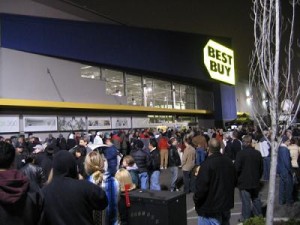 Today is Black Friday. . . . and I'm not sure why I've capitalized the name of the day except for the fact that it's now attained some level of status as a holiday. According to legend, the name was coined by members of the Philly police department who had to handle the overwhelming crowds and traffic in the city on the first shopping day after Thanksgiving.
Now, it's crazy. In Lancaster, Pennsylvania – where I live – the Rockvale Square outlets opened at 12:01am this morning to accommodate shoppers. Are you kidding me???? I read reports of people who had camped out in tents in front of a variety of stores in a variety of places in order to be the first through the doors. Want to know how crazy it is? A Wal-Mart worker was killed and four others injured when eager shoppers stampeded through the doors of a Wal-Mart store on Long Island this morning.
Look at what we've become. We're nuts. Seriously. Maybe an economic crisis with long-lasting consequences that will drive us to our knees is just what the Great Physician ordered.