I remember hearing some confusing and troubling comments from grandparents when I was a kid. Someone would bring up the topic of declining health or advancing age and then say something like, "I'm ready to go." Ready to go? My young mind could never understand how someone could make a comment like that. I was still a kid. Life was fun. Time passed so slowly it was painful. I had the rest of my life ahead of me and there was lots and lots of stuff yet to do. I wasn't ready to die. Not only that, the thought of it was terrifying.
Fast forward to today. I'm looking forward to as many days as the Lord grants me. I'm not complaining. But my knowledge of the assuring truths of God's Word coupled with my growing experience of the brokenness of life in this world has led me to become – dare I say it – more and more like my grandparents. . . . and I'm not yet even a grandparent. I realize why Paul said, "for me to live is Christ, and to die is gain." Good and best.
Yesterday these realities took center stage once again as we attended the funeral of a friend. Randy was diagnosed with cancer in September. He died early Monday morning. The great irony of death for the believer is that there is very real hope and joy in the midst of very real grief and pain. Randy's funeral service was filled with testimony to the saving grace of Jesus Christ, to the reality of the resurrection, and to the comfort of the Holy Spirit for those who have had a loved one transition from this life into life eternal. I'm not sure how to explain it other than bittersweet.
In the midst of our celebration of Randy's resurrection, a story was told that I thought I'd pass on. Randy was a guy who could fix anything around the house. A few years ago he combined his handyman skills with his love for sacred music by finding, tuning, and building sets of pipes for the church pipe organ. His garage became an organ pipe storage area and his basement became his workshop. His wife and kids would constantly hear Randy downstairs tuning the pipes. He'd use a keyboard console that he hooked to the pipes in order to hear them play. The only thing that became an issue around the house was the fact that his years of tuning sessions featured only one song. . . . over and over again. On at least one occasion, his daughter begged him to to ask the church organist to teach him a new song. Never happened.
Yesterday at Randy's funeral, we ended our worship celebration of God and His provision of the resurrection by singing that song – that only song – that Randy would belt out in his basement. I'm sure the tune is familiar as the song has become known as "The Navy Hymn." The song's actual title is "Eternal Father, Strong to Save." We stood together and sang this great hymn of hope. . . with that pipe organ Randy worked on for so many years rising to a great crescendo as we belted out the words to the last stanza. It was a spine-tingling moment because of the truths that we affirmed together in song: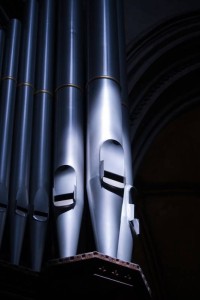 Eternal Father, strong to save,
Whose arm hath bound the restless wave,
Who bidd'st the mighty ocean deep
Its own appointed limits keep;
Oh, hear us when we cry to Thee,
For those in peril on the sea!
O Christ! Whose voice the waters heard
And hushed their raging at Thy word,
Who walkedst on the foaming deep,
And calm amidst its rage didst sleep;
Oh, hear us when we cry to Thee,
For those in peril on the sea!
Most Holy Spirit! Who didst brood
Upon the chaos dark and rude,
And bid its angry tumult cease,
And give, for wild confusion, peace;
Oh, hear us when we cry to Thee,
For those in peril on the sea!
O Trinity of love and power!
Our brethren shield in danger's hour;
From rock and tempest, fire and foe,
Protect them wheresoe'er they go;
Thus evermore shall rise to Thee
Glad hymns of praise from land and sea.
Sadly, I've been to far too many funerals where hope is absent. It's very dark and depressing. Not so yesterday. What a joy it is to know that for those who are in Christ, death has lost its sting. Because of that, we can be "ready to go."