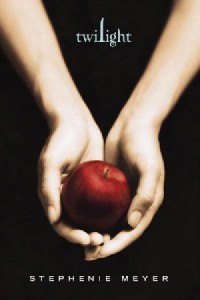 What's the most humiliating thing a father can do to his 16-year-old son? I think I figured that out. It went down last week. I'm laying on the couch in our family room. My head is propped up on two fluffy pillows. I've got a nice fleece throw keeping me warm. There's a crackling fire in the fireplace. It's a little bit snowy outside. I'm reading a novel. Perfect.
Then, Nate walks into the room and flips out. . . . humiliated. You see, he catches a glimpse of the cover of the book. Twilight. Paralyzed, he's not sure whether to report me to the police or throw me out of the house. All I remember is that he rattled off a series of fast-paced sentences laced with disgust, all of them starting with "I can't believe. . . . .!" In between there were accusations thrown around about my intelligence, my manliness, my use of time, and comparisons between me and three-quarters of the female population at his high school.
Yes, I read and just finished Stephanie Meyer's best-selling Twilight, the first in a four-book series about teenagers and vampires. Can I say that I was finally bit by the urge to read the book after weeks and weeks of seeing it on front and center book racks everywhere I turned, and hearing it come up in conversations too numerous to count. I resisted for a long time. . . after all, when was I going to be able to carve out the time to read the book? Eventually, I realized that if I was going to continue to study youth culture, the microscope had to land on this literary phenomena.
I got a little more serious about the endeavor about a month ago, when I sat down for lunch with a seminary president. Before talking about theological education, he asked me what I thought of Twilight. Pleading ignorance was all I could do as I typically refuse to comment on things I haven't experienced first-hand. He told me that his teenage daughter was fascinated by it all, and he and his wife were wary, if not fearful. I gave him the standard "read it and discuss it with her" answer, but walked away knowing that sooner or later, I would have to hit the couch with the book in hand. So, I picked it up and started reading it on a flight to Orlando. . . which of course, made me look a bit odd to my fellow passengers.
I was heading to Orlando to speak at a Christian School. I was speaking to students about making good media choices and developing media literacy skills. I was speaking to parents about their kids. I mentioned during my talk with the students that its important to read, listen, and watch critically, and to evaluate everything from the perspective of a Christian world and life view. To illustrate, I mentioned that I had just started reading Twilight on the flight down. Ripples of reaction went through the room. The reaction from the guys proved that my son Nate is a very normal 16-year-old male. The girls appeared validated and most likely saw me as, well, one of them. The majority of my follow-up conversations with students that day were about Twilight and what I thought of the book. Not surprisingly, many of my conversations that afternoon and evening with parents focused on my comments to the kids. One alarmed mother even accused me of telling her daughter it was okay to read Twilight. She calmed down after I had a chance to put my comments in context.
So, what do I think of Twilight? Keep in mind that I've only read the first book and that I have yet to see the movie. . . a fact that I'm embarassed to admit. After reading the book, I can see why it's a best-seller, especially among female adolescents. It's a story about adolescent struggles, confusion, and love. But it's also a book about good and evil and the human struggle to do what's right. I asked several girls who had read the book and wondered what I thought about what they thought of the book and its message. To a girl, each one said it's a book about right and wrong, choosing to do what's right, and sexual abstinence. It doesn't glorify vampires. They are correct. You see, my concern with something like this is what readers take to the book, and then what they take away from the book. Without a strong Christian world and life view and without having skills in thinking Christianly and critically about media, young readers most likely will not take away from the book what I took away from the book. For them, it's just a riveting love story. But when reading this story as one caught up in God's unfolding historical-redemptive story, there is much to celebrate in the book. For me, I was reminded of the fact that even though God has adopted me as a son and made me over, my depravity is still kicking at the door and wanting to rear its ugly head. I'm in a battle. . . something that the Apostle Paul talked about constantly. And to win the battle, I have to recognize that the battle does indeed exist. That's just one theological truth that the book drove home for me. And by the way, it was a bit difficult to put down. Can I admit that?
So what do we do with Twilight? My simple answer is this: if you're a parent or youth worker who's got kids interested in the book or who have read the book, read it yourself. . . and then talk about it with them. What a great opportunity to think with your kids. What a great opportunity to model how to bring the light of God's Word to bear on everything in life. What a great opportunity to seize a teachable moment. If you're a youth worker who's ministering to loads of Twilight fans – and if you're a youth worker you most likely have lots of Twilight fans in your group – why not get a Twilight discussion going? Again, this is a great opportunity to get talking about life, good, evil, right, wrong, and the need to exercise Biblically-informed media discernment. My great fear is that if we simply make the assumption that this should be avoided (book + vampires = evil), then we will not only miss a great opportunity, but we'll be sending our kids off to process the book without the benefit of our guidance and direction.
Have any of you read Twilight? And, what do you think? What have you done with the kids you know and love in response to Twilight?
Oh, and by the way. . . I want to be a reponsible youth culture watcher. That said, how humiliated do you think Nate will be when the UPS man knocks on the front door to deliver the box from Amazon containing the other 3 books in the series that I ordered?!? I'll let you know how it goes.