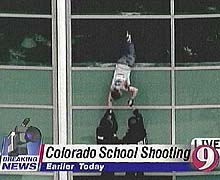 It was ten years ago today that the name of the Colorado state flower became associated with a grizzly massacre and not the flower. I think it's safe to say that when most people hear the word "Columbine," they think of the at-the-time-unprecedented school massacre perpetrated by two teens named Harris and Klebold that dominated news coverage 24/7 for weeks.
I remember what I was doing that day. After lunch, I drove to Lancaster Bible College to speak to an English class on writing and getting published. I quickly hopped in the car to drive down the road to McCaskey High School where I was speaking on music and media to a group of at-risk kids attending an after-school support group run by one of the school counselors. I can still remember parking my car and hearing a radio report on a school shooting in Colorado. The reporter said that a couple of kids were injured. By the time I emerged out of McCaskey High and got back into the car, a different and more horrifying story was unfolding.
April 20, 1999 was a watershed moment in youth culture. The event that demarcated modern American youth culture into pre-Columbine and post-Columbine is one that we can all think back on and remember where we were when it happened. I came home and was glued to my television set throughout the night. It was clear that a large dose of innocence was lost. We were forced to start asking difficult questions about kids, their development, and the role culture plays in shaping worldviews, values, attitudes, and behaviors. And, we asked "How?" and "Why?"
Within hours I was fielding phone calls from people on site at Columbine High School, and from local news outlets that were trying to get something to run on the story. Within hours I was asked to come out to Littleton, something I refused to do until the dust settled and the last victim was buried. I believed – and still do – that it's best for local folks to deal with their tragedy and pain without the hassle of all the outsiders who want to come to town to grab some media time and attention for their usually off-base theories and commentary.
Within a few days, I traveled to Littleton at the invitation of some local youth workers and schools, not to talk about the massacre, but to talk about kids and the pressures they face. Crisis leads people to try to figure these things out. I agreed to travel to Littleton only if my two co-workers, Paul Robertson and Tom Piotrowski – could come along.
I asked that we be able to do two things upon our arrival. First, we wanted to spend time with some of the youth workers whose heads and hearts were still spinning from the tiring and confusing whirlwind of stuff that they had to face. Rich Van Pelt was leading the charge with those folks and it was sobering to hear firsthand about what they had been through. Second, I wanted to get some time alone at the high school campus. We were taken over to Columbine High School and for more than an hour, I walked alone around the school, through the grounds, to the victims' cars (still in the lot), and to the rapidly growing memorials. I wanted to soak it all in as I knew that was important.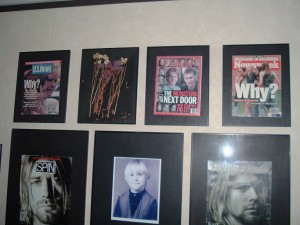 When I got home, some additional things went up on our CPYU office walls. Remember the Kurt Cobain photos I blogged about a couple of weeks ago? Right above those photos are three magazine covers from the week of the massacre. In a fourth frame sits a clump of dried flowers that I brought back from the mountain of flowers that had grown in the school parking lot. Like Cobain's photos, these mementos of that day serve as a constant reminder for us of why we do what we do at CPYU.
This weekend I had the great privilege of spending time with a group of parents from the Woodale Church in the greater Minneapolis area. On Sunday morning I shared my little summary of how the world of teens has changed since we were kids. If we didn't believe these things about youth culture prior to Columbine, April 20, 1999 served as a wake-up call that couldn't be ignored. And since Columbine, the volume on each has only intensified.
First, there's more brokenness and suffering. Kids are hurting. Eric Harris and Dylan Klebold didn't just simultaneously snap one April morning. Their hurt and pain had simmered and grown over the course of a long, long time. Then, the only way out they could find was the way they chose.
Second, the stuff that kids should never have to deal with is having to be dealt with by kids at younger and younger ages. It's called age compression. What the Columbine student body witnessed was horrible. It would have been horrible for an adult. It's even worse for kids.
Third, nobody is immune. Anyone. Anywhere. Anytime. It doesn't matter where you live, where you go to school, where you go to church, if you go to church. . . . nobody is immune. Youth culture's issues, pressure, problems, challenges, and choices exist without borders.
And finally, sooner or later. All of our kids will have to deal with difficult stuff and make difficult decisions.
Not only is this their world, but it's the world in which they live and grow as we've been called to nurture, love, guide, and lead them. So don't turn your eyes away from the ten-year old images that are sure to be all over the papers and TV today. Let them serve as reminders of what we've all been called to do. Let them serve as reminders that all creation is crying out for redemption. Let them serve as reminders of our calling as signposts pointing to the Cross. Let them serve as reminders of our need to pray for all kids and their families. . . . families and kids represented by people with last names like Scott, Bernall, Mauser, and Rohrbough. And families and kids represented by people with last names like Klebold and Harris.