I've got a hunch that I'll remember May 18 as the sixth best day of my life. The day I was married stands immovable at #1. There's a four-way tie for second place that's occupied by the arrivals of four kids named Caitlin, Joshua, Bethany, and Nathaniel. Then, there was the day in Nairobi that we met Ibrahim.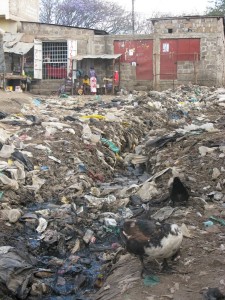 Our last day visiting Compassion projects in Africa took us to the Mathare slum, a small trash-heap/cesspool in which over a million of the world's poorest people are crammed. Pictures can't tell the story because they don't have sound, smell, touch, or taste. People live in Mathare hoping to survive one more day. The "streets" are very narrow and horribly rutted composites of mud, sewage, and trash that require full attention to navigate each and every step. One misstep and you're wallowing in disease-ridden garbage. The plastic bags that cover most everything have been used by residents as urinals. With no bathrooms, they urinate in the bag, then simply throw the bag out the front door and onto the street. Ragged channels filled with raw sewage and waste water run through each street to a narrow river that flows through the center of the slum in what's known as the Mathare Valley. More on that later.
The most exciting part of our visit to Mathare is our opportunity to meet Ibrahim, the 12-year-old Compassion child that we sponsor. Ibrahim grew up in Mathare, is being raised by his mother, and is living with several of his siblings. We were excited and full of anticipation.
As we turn off the main road our two vans begin to navigate a steep downhill run through masses of people and garbage on the narrow streets of Mathare. It is a sight that I don't think I'll ever be able to adequately describe to those who haven't seen it. After a quick left turn, our van slows as we pull up to the metal gate of Compassion's Mathare Child Development Center. I'm sitting in the van holding Ibrahim's Compassion picture in my hand. As soon as we pull up in front, a young boy dressed in his best clothes jumps up from where he's been sitting and excitedly waiting on the far end of the small courtyard in the center of the compound. His face is covered in a smile that shows white teeth and huge dimples. He runs to the gate and opens it with excitement. The folks in our van wonder out loud if this is Ibrahim. We look at the boy and look at the picture and are fairly certain this is him.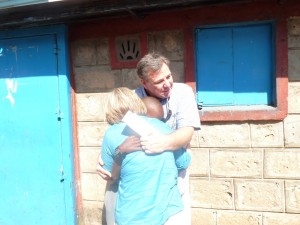 Our vans back into the small courtyard and we hop out. The young man shyly looks around the back of the van at us. I'm holding the picture and showing it to him from a distance of several feet. Pointing at the picture and pointing at him, he knows I'm wondering if he's the boy in the picture. I didn't even have to say his name. When he realizes it is, Ibrahim runs to us and embraces us like there's no tomorrow. His smile is permanent. Amazing. It is then that I realize that Compassion sponsorship really means something to these kids. It changes their lives and they are so grateful.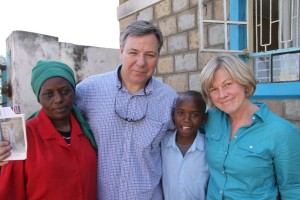 Ibrahim grabs my hand and holds onto it for most of the rest of the morning. We meet his mother and his sister. We discover that as in so many of these stories of poverty, Ibrahim's sister is actually his cousin. His mom is raising her because her sister died in childbirth, leaving this niece orphaned. That's just the way these people are. Again, amazing. We sit together as we sing, worship, and hear about the work of this Child Development Center. Ibrahim worships the Lord with great enthusiasm. At one point, I'm sitting with my arm around Ibrahim. He leans over to me and in English – which he's been taught and speaks very well – he says, "I was so excited to meet you that I couldn't sleep last night." Again, I'm reminded that our sponsorship is simple, easy, and costs us about nothing. Still, it's paying great dividends in the life of this boy and his family. He has hope.
We spend some time walking through the Mathare slum and we visit another Compassion family. This time, it's a mother raising seven children in a home that's about half the size of my living room. We ask them about how Compassion has impacted their lives. To summarize, God has used Compassion to give them life, both physically and spiritually. I ask the Mom's twin sons about their sponsors. I am amazed at what happens next. There's almost nothing in this house. Mom reaches back behind a drape made of newspapers and fabric scraps and pulls a tattered paper folder out from between a stack of thin mattresses. Inside are photos of their sponsors. . . along with various letters and papers they've received. The boys proudly hold the photos. Both of these boys are sponsored by high school girls from the U.S. I wonder if these two students know the impact their sponsorship is having on this family.
After praying with the family we walk back to the Child Development Center. Just like on our walk to the home, scores and scores of little children appear from everywhere repeating the only English phrase they know – "How are you?!?" They eagerly receive our attention and touch.
On our walk back, we cross back over a crude and dilapidated steel bridge over the aforementioned river. I had stopped in awe and disgust on our way to the home just minutes before. The river might be 20 feet wide. It's moving fast. The steep banks are covered – COVERED – in garbage. The water runs thick and brown. All kinds of who knows what floats quickly by. On my first trip over the bridge, I was taken back by the sights and smells. Downstream from the bridge I had seen two pigs running up and down the banks and in and out of the water. On the other side a dog stood on the bank lapping at the water. The sight had made me stop in my tracks and stare. Now, on the way back, the pigs were still there. But on the other side where the dog had a been, a small boy was kneeling in the water and playing with a small plastic boat.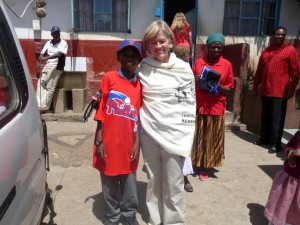 Before leaving Ibrahim and his family at the Child Development Center, we give them several gifts that we've brought with us from home. Lisa gives Nancy (Ibrahim's mom) several towels and other household items. Ibrahim gets a soccer ball, numerous school supplies, candy, a Mueller family picture, some toys, a Frisbee, baseball cards, a couple of Phillies hats, and a Ryan Howard T-Shirt (yes, I was brainwashing him). But nothing prepares me for what comes next. With huge smiles on their faces, Ibrahim and his mom give us gifts – a wrap and a necklace for Lisa, a shirt and bracelet for me. The bracelet barely slides over my hand and wrist, but I work with Ibrahim to make it work. It's one of the best gifts I've ever gotten. The look in the eyes of these people who live on maybe a buck a day is priceless. We have given out of our abundance. They have given out of their poverty. I think of the story Jesus told about the widow and her offering. I see in the face of Ibrahim that God gives great joy to those who have nothing, and that for them, it is better to give than to receive.
As we pull away from Ibrahim and Mathare, I hope that I will be able to come back again. . . soon. But I also know that it's time to leave. Lisa and I have been given much during our trip to Africa. And with leaving comes the responsibility to return home to do something with it. I am convinced that Compassion is the most impressive ministry I have ever seen or been a part of. I am convinced that I must be a good steward of the experience I've been given.
If I may, I want to end my Africa blogging experience with some challenges that flow out of the responsibility that our knowledge and experience brings.
First, I know that many of you are Compassion sponsors already. Believe it or not, as our group was sharing dinner just hours before climbing on board our flight back to the U.S., Rich informed us that just that day, Compassion International had secured sponsorship for their 1 millionth child! Just to clarify, Compassion has sponsored many more than that over the years. But on that day – for the first time ever – 1 million children were in the sponsorship fold at the same time! Now that I've seen Compassion in action, I have resolved to tell all sponsors that their sponsorship changes the lives of the children, their families, and communities. Your $38 a month is very, very significant. God is multiplying those loaves and fishes into a great feast. If you are already a Compassion sponsor, I want to encourage you to write to your child. They absolutely treasure all correspondence, pictures, and even the simplest of gifts. Please take the time to do that.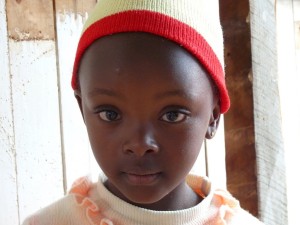 Second, to those of you who are not already Compassion sponsors. . . can I invite you into the experience? You, your family, your youth group, your Sunday School class. . . you can and must do this. Jesus calls us to have a heart for the poor. This is a tangible way to make that happen. Before logging off of this blog, would you take a few minutes to click on this link to Compassion International to look at the kids who are in need of sponsors, and to perhaps make the decision today to sponsor a child. We have the money to make this happen. I know we do. It's in our pockets.
A few days into our trip, an amazing thing happened. Lois Penner came to breakfast and told me that she had opened her Bible the night before to read a Psalm. She randomly turned to Psalm 113. She told me, "Listen to this!", and then she read verses 7 through 9: "He raises the poor from the dust and lifts the needy from the ash heap; he seats them with princes, with the princes of their people. He settles the barren woman in her home as a happy mother of children. Praise the Lord." I laughed. Why? The night before Lisa had said to me, "I need to share with you what I read this morning. I stepped out of my normal Bible reading plan and decided to randomly read a Psalm." You guessed it. Lisa then read the exact same words from Psalm 113. Coincidence. I think not.
Our trip to Africa was planned before all eternity. The fact that you've followed our trip on this blog was planned before all eternity as well. I trust that you understand that your growing heart for the poor and respect for the ministry of Compassion International was planned that long in advance as well.
If I have any regrets, it is only that I wish I had known all of this sooner.
By the way, if you sponsor a Compassion child or seen Compassion's work in action, what do you think? Post a comment.