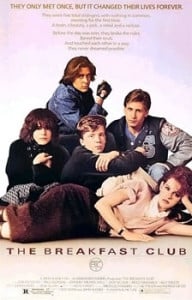 The pictures on the walls here at CPYU serve us as visual reminders of why we do what we do. Among them are a bunch of movie posters. If you would visit our office and stand in the main common area, you'd see posters for two of my personal favorite teen films, The Breakfast Club and Ferris Bueller's Day Off. John Hughes directed both. The 59-year-old Hughes died on Thursday morning while taking a walk.
If you watch movies and you like to laugh, you're most likely familiar with Hughes even though you might not recognize his name. Included in his body of work are a host of comedies that when mentioned, conjure up visual images and verbal references to some pretty classic scenes. Among my favorites are Planes, Trains, and Automobiles, National Lampoon's Vacation series, and the Home Alone films.
But Hughes also had the ability to tug at our hearts. While John Candy's Del was hilariously funny as a traveling shower curtain ring salesman, viewers were moved by Del's loneliness and need for connections. And what male youth worker who's had to share a hotel room with their peers at a youth worker convention hasn't at some point made reference to this scene? . . . .

And then there's the teen film that offers a window into the adolescent world that's still relevant today – The Breakfast Club. I am amazed at how a film that's almost 25 years-old can still help us understand the trials and travails of teenage life. The film was made five years before CPYU was founded. Twenty years into our ministry of providing information and analysis on today's youth culture, it's a movie that I still point to as a timely primer on teenage life and culture. The Breakfast Club is my favorite teen film of all time.

The death of John Hughes reminds me that I haven't watched The Breakfast Club in a few years. This weekend, I'm going to watch the DVD. If you decide to do the same, be sure to watch the DVD – not the TV – version. There's something about the honesty and brutality of the language used in the unedited version that opens our eyes to reality in some very significant and moving ways.
This isn't the first time I've mentioned the recommendation of one theologian for all Christians to start their day with the Bible in one hand and the newspaper in the other. In this case, start your weekend with the Bible in one hand and The Breakfast Club in the other. It will open your eyes to how we need to bridge the gap between the life-giving Word, and a yearning-for-life world.