Did you get to see the VMAs? I'm hoping you did and that you're up for sharing your thoughts about the broadcast, the questions I posted here on Friday, and the implications of it all in terms of our ministries with kids.
I decided that this year I'd do something a little bit different. Rather than watch and then let it all ferment in my brain overnight, I decided to blog just a few of my thoughts in real time, posting them as soon as the show ends. So here comes Madonna to the mic . . . . talking, as expected, about Michael Jackson. . . and I'll be jotting my thoughts as they occur. Hopefully you'll be able to glean something from it all.
-Is it me, or is Madonna's monologue a little bit creepy? How does Joe Jackson feel about Madonna talking about the fallout from his son's lack of a childhood? And what would that have been like if Michael Jackson and Madonna had wound up as a couple? In his death, will Michael Jackson continue to be deified in spite of Madonna's claims that he was only human? Yep. . . Michael Jackson was good and really talented. But we continue to slide into holding celebrities up higher than we should, doing ourselves and them no favors at all.
-Russell Brand's opening monologue picks up where he left off last year. There are no bounds in what we talk about when it comes to sexuality. Brand has set his mark for the evening. . . Lady Gaga. He's expressed what he wants to do with her, while telling the world about her bisexuality. The censors did kick in a couple of times, but you have to wonder how long those conventions will be held.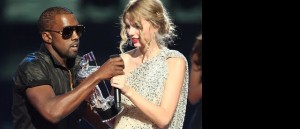 -And then the Best Female Video goes to Taylor Swift. Considering what this 19-year-old was up against, it's good to see something and someone more wholesome take home the moon man. But surprise surprise. Kanye West ruins Swift's moment by grabbing the mike and making a fool of himself by talking about Beyonce. . . nominated in this category. . . having one of the best videos of all time. Again, more evidence of our collective loss of respect, kindness, civility and decency. Another inflated ego tries to steal the show. Thank goodness, many in the crowd stood and applauded the shocked Swift. Wow. . . it didn't take long for the first wacky moment of the night.
-I know Jack Black was trying to be silly in his mock prayer to the devil. . . but again . . . . creepy. When you know the enemy is real, it's not silly.
-After a wholesome performance from Swift, we're told to hang on for Lady Gaga and whatever it is that she's going to do on stage in 6 minutes. Maybe the Body Heat fragrance commercial is a sneak preview.
-Okay. . . her onstage rendition of "Paparazzi" was artsy and spooky. What's the song about? Here's what she's said about it in the past: "The song is about a few different things – it's about my struggles, do I want fame or do I want love? It's also about wooing the paparazzi to fall in love with me. It's about the media whoring, if you will, watching ersatzes make fools of themselves to their station. It's a love song for the cameras, but it's also a love song about fame or love – can you have both, or can you only have one?"
-Green Day performs "East Jesus Nowhere," a song I'm still trying to totally understand. The song goes after religious hypocrisy (a legitimate target in many ways), and the intertwining of religion and politics (again, a legitimate target in the way the relationship often manifests itself). A song like this shouldn't necessarily make us (as people of faith) angry. Rather, we should listen and then ask if there's any truth to what they're singing. Again, in many ways I think there's some truth. But I always worry about songs like this that tend to lump the baby in with the bathwater, leaving vulnerable young listeners thinking negatively about both. Our lack of a fully integrated biblical faith with stuff like this to devalue true Christian faith.
-Wow. . . .what a marketing coup with the exclusive showing of the extended trailer for New Moon, the second installment in the Twilight saga film series. The fascination with Vampire culture continues to grow.
-Whenever I watch Beyonce I can't help but think back to what she wrote in the liner notes of the Destiny's Child Survivor album back in 2001. You need to check it out.
-Muse performs their anti-establishment/resistance song "Uprising." They sing,
The paranoia is in bloom,
The PR, the transmissions, will resume,
They'll try to push drugs to keep us all dumbed down,
And hope that we will never see the truth around,
SO COME ON!
Another promise, another scene,
Another package not to keep us trapped in greed,
With all the green belts wrapped around our minds,
And endless red tape to keep the truth confined,
SO COME ON!
They will not force us,
They will stop degrading us,
They will not control us,
And we will be victorious!
Anyone out there know much about these guys from the UK? I wonder if their words are prophetic in the sense that they point to a looming and growing generational divide over ideologies? I've long thought that the cultural-generational gap that exists in today's world is due more to the pace of cultural change than to ideological differences. In the former, people on both sides are more prone to want to come together. With the latter, they are ideologically divided. . . like in the sixties. Is that what we're heading towards?
-Oh man!. . . Lady Gaga is winner of the Best New Artist. They zoom in on her wearing that red thing. . . . and I think I'm going to have nightmares tonight! She won her award "for God and for the Gays." I think that more than anything else at this year's VMAs, Lady Gaga is the best indicator of where we are and where we're going as a culture. For that reason, she warrants our attention, and a deconstruction of her music, story, and worldview. Her popularity means that her message is getting through.
-Best performance of the night. . . . Pink. Gutsy and pretty creative.
-Now that's a classy move on Beyonce's part. She wins Video of the Year then steps aside to have Taylor Swift come out and have "her moment." In a world filled with posturing, bad sportsmanship, and egos, this was a wonderful moment of redemption for Taylor Swift, courtesy of Beyonce.
So. . . what caught your eyes and ears this year? Who are we as a culture? What do we value in our culture? What do we believe in our culture? Who are we choosing to live in our culture? And what does all this mean in terms of how we minister to kids?
Feel free to share your insights.