I love a good and inspiring book. I'm guessing you do too. So. . . . I want to pass on recommendations for a couple of new books that I've read that I'm encouraging others to read as well.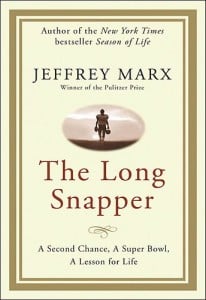 You may remember me mentioning Jeffrey Marx's Season of Life in the past. This true story of transformation, redemption, and character development was a best-seller that Derek Melleby and I have been quoting for years. Now, Marx has released a new football story that will inspire sports fans and even non-fans alike. The Long Snapper is a quick can't-put-it-down book that tells the story of Brian Kinchen's unprobable invitation to come out of retirement to long-snap for the Patriots during their Super Bowl run of 2003. Marx uses his engaging signature-style to take readers on Kinchen's journey from middle-school Bible teacher to the stresses of long-snapping when ultimate football prize is on the line. With a son who was long-snapper in high school, I know just how nerve-wracking a responsibility it is and how the long-snapper remains invisible until they mess up. This is a great story that will serve as a well from which to draw lessons to pass on to the kids you know and love when you are presented with teachable moments.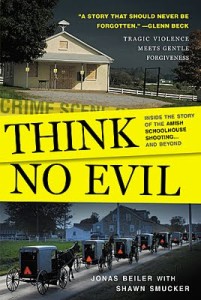 My second recommendation is a new book from my friend Jonas Beiler, a former Amishman who started a local Christian counseling center that was funded by his wife Anne's homemade pretzel stand. Anyone who travels through airports or goes to the mall is familiar with Anne's "Auntie Anne's Pretzels." The new book from Jonas is Think No Evil: Inside the Story of the Amish Schoolhouse Shooting and Beyond. Jonas gives a compelling firsthand account of not only what transpired at Nickel Mines and his personal involvement, but how the Amish were committed to forgive. Jonas asked me to endorse the book and I'll pass on what I wrote: "Many accuse our Amish neighbors of being strange and unusual. In the immediate aftermath of the Nickel Mines school shootings, the world found that to be true. The deeply hurting Amish community showed a strange and unusual commitment to show deep grace, mercy, and forgiveness. . . . of the type that should be normal and usual for us all. Jonas Beiler takes us into the story of the Nickel Mines shootings, offering readers deep insights into how the world should be. This is a compelling story that will not only make you think but just might change your life."
Now, get reading!