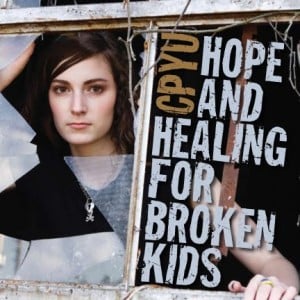 I returned home from a great trip to Grand Rapids and Holland, Michigan to a wonderful article by Helen Colwell Adams in the Lancaster Sunday News. Helen interviewed Marv Penner and Rich Van Pelt about their upcoming trip to our area for the March 13 Hope and Healing for Broken Kids seminar.
Here's what Helen wrote. . . and it's great stuff about the very discouraging world of our kids. . .
When the first in-depth book on the phenomenon called "cutting" was published in 1998, one in every 250 teenage girls reported injuring themselves as a response to psychic pain.
Boys didn't have a problem with self-injury, the book, called "Cutting," concluded.
Just a couple of years ago, Marv Penner said, Princeton University surveyed its incoming freshmen and found that one in five young women and one in seven young men had cut themselves.
But the skyrocketing rate of self-injury reflects a broader cultural trend: broken and hurting kids.
Giving those teenagers both healing and hope is the reason why Penner, the head of Youth Specialties Canada, and Rich Van Pelt, national director of ministry relationships for Compassion International, are coming to Gap next month for a seminar aimed at parents, pastors, youth leaders and teachers.
"Hope and Healing for Broken Kids" is sponsored by the Elizabethtown-based Center for Parent-Youth Understanding. Seminar sessions focus on the kinds of hurt and brokenness teenagers are experiencing and on the specific concerns of cutting and suicide.
"There is some deep, deep brokenness," said Walt Mueller, CPYU's president.
"We see it in the research. Even worse, I see it in the faces of kids and parents each and every week as I travel around the country talking about youth culture."
Some national surveys seem to show that the "Millennial" generation is more than fine when it comes to measures of self-esteem.
But appearances can be deceiving. Penner and Van Pelt said pain and brokenness are becoming epidemic, not only in North America but around the world.
Kids don't open up about their hurt unless they trust the adult they're talking to, the seminar leaders noted. They don't want to risk being ignored –again.
Indeed, the most common kind of brokenness they encounter is the pain of betrayed trust.
"We desperately need kids to be OK because it affirms us as adults," Penner said.
"It not only affirms us," Van Pelt interjected, "but lets us off the hook."
"Plus," Penner added, "we don't have a clue what to do if they're not OK."
Adolescence often is a time when teenagers learn their parents aren't perfect and that families aren't always safe places to be. "We've complicated that by putting them in a historical moment where everything seems to be breaking down," Penner said.
"We as adults, for a plethora of reasons, have abandoned kids and have left them to fend for themselves," Van Pelt said. "The kind of support systems that kids historically counted on to help them through the turbulence of adolescence just aren't there any longer."
So teenagers look to their peers for support — support that other teenagers aren't capable of providing. And kids end up even more hurt by "the bad decisions that they're making to try to fill the void that exists in their lives."
Twenty-first century teenagers are part of "a generation that's raising itself," Penner said.
"Kids are hurried to grow up in a culture where there's so much pressure on them to perform for their parents, to try to please parents in this desperate hope … that they might get their needs met," Van Pelt said.
When teens' relationship with adults in their lives seems to depend on how well the kids perform, Penner added, the result is "shame-driven kids who believe there's something defective about them. They're not good enough."
The phenomenon of brokenness crosses socioeconomic and cultural lines.
"It just manifests differently," Van Pelt noted. "Kids in the 'burbs have their gangs. It just looks different" from urban kids' gangs.
"It's astounding to see how these phenomena that we're quite familiar with in North America are beginning to show up in cultures around the world," Penner said. He just returned from South Korea, which is reported to have the highest rate of adolescent suicide in the world. Self-injury is a rising problem in Korea, Hong Kong and other Asian countries.
One indication that brokenness is on the rise, he noted, is that cutting is no longer adequate for some kids to deal with their hurt.
The latest form of self-injury is called embedding, when "kids actually open their skin and bury destructive [items], usually shards of glass or bits of metal under their skin so they can just pound on it and cause internal damage."
"The level of self-destructive behaviors that they're choosing to cope are unprecedented," Van Pelt said.
But in the hurt, Penner and Van Pelt said, hope remains.
Often parents are cast as "the enemy," Penner said, with the perception that parents have disconnected from their kids because of self-absorption. The reality, though, is that parents often are "terrified they don't know what to do" with their teenagers.
"Coming alongside parents is a huge part of this," he said, "not to berate them, but to support them."
Churches also need to realize how much they have to offer kids — not in terms of teaching or information as much as in providing "a safe place to belong and consistent, authentic availability" that teenagers can't find in other institutions, Penner noted.
"We want to help parents, youth workers, educators, and pastors address these very real issues with biblically faithful and time-tested strategies," Mueller, the CPYU president, said.
In the conservative church, Van Pelt said, "there's the sense that we need to circle the wagons and isolate our kids from what's going on," for instance, by homeschooling. But it's a mistake to think that anyone can isolate kids from the culture.
"What we're finding over and over again is that kids are starved for relationships," he said.
That's what parents and churches can offer broken kids.
"Empowering parents to know how to come alongside their kids in pain is freeing for parents," Van Pelt said. "That's where the hope is."
"Hope and Healing for Broken Kids" will be held from 8:45 a.m.-5 p.m. Saturday, March 13, at the Family Center, 835 Houston Run Drive, Gap. Registration is $35 per person in advance or $40 at the door. Group and college student rates are available. For information and to register, visit cpyu.org or phone 800-807-CPYU.