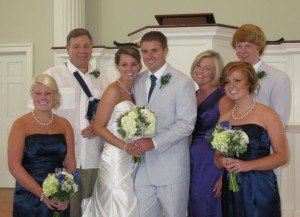 A little over three weeks ago I experienced the marriage of one of my children for the very first time. Josh married Sheila. It's a relationship God cultivated through the gift of weak ankles. Sheila was one of the student athletic trainers working with Josh's college lacrosse team. She taped his ankles every day that year. . . and only Josh will ever know if they needed to be taped every day or not! Perhaps it's no coincidence that Josh severely sprained his ankle playing lacrosse a week before his wedding.
Watching them recite their vows not only reminded me of the very same vows Lisa and I had recited to each other 28 years earlier, but it served as a reminder of how many young couples who stand and recite those vows in today's world will never keep them. I trust that the Lord will sustain and build their young marriage. I hope that as their marriage is built, any false hopes, dreams or ideas they have about love and commitment will be quickly shattered and then replaced with a heavy dose of reality.
It's also no coincidence that my kids – including the newlyweds – have had a front row seat from which to see the power of marital love in action over the course of the last four weeks. My varying degrees of physical helplessness and dependency on others has created a situation where the girl who 28 years ago promised to love me "in sickness and in health" has been doing just that with an eagerness and gusto that has brought me to tears on several occasions. Her commitment is not at all surprising to me.
Sadly, I'm not so sure that kind of marital commitment is on the rise in today's youth culture. Many kids are choosing to not get married. Of course, there are a variety of factors contributing to this growing reality. One of those factors is the lack of any compelling and realistic models of marriage to look up to. After all, if marriage didn't work in my family, why should it work for me?
This cultural trend has been one that's been chipping away at me for quite some time. More than alarming, it's something I know we need to more directly address at CPYU. We need to help parents and youth workers not only see the trend for what it is, but address it in ways that will prepare kids for the realities of marriage so that the tide can be turned and the institution realistically understood and thereby strengthened in our culture.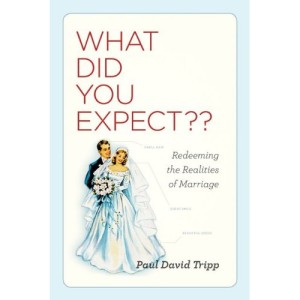 While I've been laying around, one of the books I've been reading that addresses these issues from a very practical, hopeful, and realistic standpoint is Paul Tripp's What Did You Expect: Redeeming the Realities of Marriage. In his typical fashion, Tripp addresses the culturally-promoted lies we come to believe with the counter of a Biblically-based explanation of the way things really are. Tripp cuts to the chase and warns readers against believing that it's always the other guy who's the issue. Instead, the reality is that the biggest problem in your marriage is well. . . you. He writes, "The big battles you fight in marriage are not the ones you fight with your spouse. No, the big battles are the ones being fought in your heart. All of the horizontal skirmishes between a husband and wife are the result of this deeper battle. Remember, there is still sin remaining in your heart, and the DNA of sin is selfishness." As my pastor once told me, we are deeply depraved people living in a depraved world. Conflict is inevitable. You will live with it until the day that you die. Maybe that's the most important thing a young couple can latch on to before they recite their vows. And maybe if they know that's true, they can take the steps necessary to receive and show God's free gift of grace in ways that make those vows come alive each and every day. . . . as they stay together "until death do us part."
Paul Tripp goes on to challenge readers to make these six mutual commitments in their marriage:
1. We will give ourselves to the regular lifestyle of confession and forgiveness.
2. We will make growth and change our daily agenda.
3. We will work together to build a sturdy bond of trust.
4. We will commit to building a relationship of love.
5. We will deal with our differences with appreciation and grace.
6. We will work to protect our marriage.
I've been married 28 years and I'm learning much from What Did You Expect? I want my kids to learn the lessons in this book. . . which is why they are each going to be given their own copy. If you're a parent or a youth worker, read it for your own edification, then live it in front of and talk about it with your kids. False expectations and ideas are killing marriage. Let's do all we can to breath some redemptive fresh air into an institution that if our culture stays on its current course, is in great jeopardy.