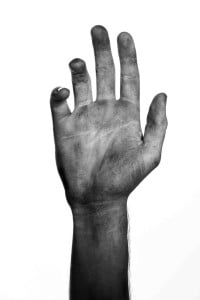 My youth pastors left quite a mark on my life. They challenged my faith, provided a great example of what it means to follow Jesus, and they used teachable moments to shape my knowledge of the Almighty. I oftentimes say that if it wasn't for Phil, Mike, and Chuck, I wouldn't be doing what I'm doing today. Because of them, I know what kind of impact a youth worker can have on a kid.
One of the many profound moments I remember from my high school days occurred during a youth group meeting when Phil asked our group to ponder the wonder and greatness of the Creator. He asked us to hold up our right hand and to look at it. Then, he instructed us to move it. . . and move it again. . . and then move it again. We did this for about 5 minutes, but it didn't take that long to come to the realization that the so-familiar-that-we-take-it-for-granted five-fingered thing at the end of our right arm provides amazing evidence of the fact that we have been – as the Psalmist says in Psalm 139 – "fearfully and wonderfully made."
I was reminded of this on Monday as Lisa and I sat in an office at the Hershey Medical Center after viewing x-rays and discussing the healing taking place in my bones with a couple of orthopedic physicians. When they left the room we were in awe at how God has made our bodies to heal, and the evidence of that in my own body over the course of four short weeks. As we sat there together in amazement in the quiet of that room, we both remarked with wonder at how any physician couldn't be a believer and follower.
This morning, our paper reported on some new stuff from physicist and mathematician Stephen Hawking. I've never read any of Hawking's stuff, but I've from time-to-time followed the news stories about Hawking's theories and writings. Today's headline read: "Hawking: God not needed for creation." It seems that Hawking is challenging Isaac Newton's theory that God had to be involved because without him, order couldn't have somehow just naturally come out chaos. I don't get it. For me, even the ability of Hawking's brain to think at levels I could never dream of achieving is ample evidence for a Divine Creator.
So. . . today. . . I challenge you to take 5 minutes (or more) to look. . . to really look. . . at that right hand on the end of your arm. If you're a parent or a youth worker, take a lesson from Phil, a guy who had a tremendous impact on my life, and challenge your kids to shut down long enough to ponder the evidence at the end of their right arm. And if that isn't enough, maybe I'll get you a copy of my x-rays!