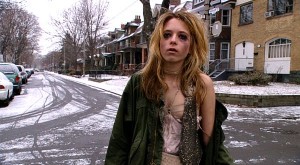 I suppose it means I'm a bit jaded when there's very little that comes out of today's media that I find shocking. But I realized last week that I'm not so jaded that I didn't recoil when I watched MTV's new teen "soap opera", Skins. The opening scene of this grey and depressing adolescent world included shots of a bedraggled teen girl walking barefoot across a cold street after a night of doing who-knows-what. . . a night that left her looking like she had just survived a brutal assault. By the time the one-hour show had ended, it seems like that opening scene may have depicted a young girl who had been raped by life. Strong words, I know. But I'm seriously wondering – and brace yourself for some strong words again – if Skins might itself be an assault on our kids.
I've let some days pass since viewing the show's premiere episode. I'll be watching again tonight when the second episode airs. Watching the show takes a little bit of work. . . I had to get past the TV-MA rating and insert my unlock code. While inserting the unlock code I noticed that On-Demand had summarized the first episode with this little descriptor – "Tony tries to help his best friend Stanley lose his virginity."
On the one hand, Skins gets some things about adolescence right. The great task of the adolescent years is identity formation. . . or trying to figure out who I am. The teen social scene is difficult to navigate and oftentimes confusing. Being a teenager isn't easy. It's also a fact that the world is a dark, depressing, and hopeless place for far too many kids. Some of them escape through erroneously seeking the redemption through sex and drugs. Maybe the show will play out in a way that shows that neither of those things can ever fill the hole in the soul, but judging from last week, nobody on the show is close to coming to that conclusion yet.
But on the other hand, I'm afraid that young viewers trying to establish their identity and find their way in the world will be tempted to take their clues and cues from Skins. If Skins is reflective of life as a teenager, then things are bad. If Skins is directive for teenagers trying to weave their way through life, then things are even worse. The kids on Skins live in a world filled with capable teens and incapable, idiotic adults. Kids rule. They live in a world turned upside down. It's a world where vice is virtue and virtue is vice. It's a world where twenty-five percent of the words in the adolescent vocabulary are slang terms for all kinds of sexual activity. It's a sad world.
I wonder how Skins will begin tonight. And I wonder who will be watching.