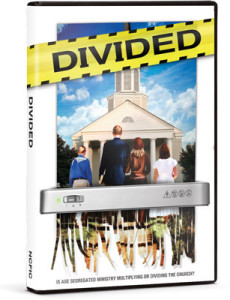 Over the course of the last couple of weeks I've had several friends contact me for my thoughts about a new film – Divided – that blasts away at youth ministry as we know it. Since I've lived in the youth ministry world my entire life, they thought I should have some opinion. To be honest, I hadn't heard of the film but when time finally allowed, gave it a watch. . . just in the last hour in fact. What's most interesting to me is that as soon as I logged onto the film's site (you can watch it there), I realized that I not only knew the guys who had made the film, but I met them when they emailed me several requests to be interviewed for the film. . . and then they spent probably close to an hour interviewing me on film. And yes. . . I'm in the movie. . . for about 5 seconds!
Let me say that it does strike me as odd that filmmakers who asked to include me in a film they made never contacted me to let me know that the film had even been released, that I should give it a watch, and that they might want to hear my response. That serves to confirm my feeling about the film after one initial viewing – that this is an extremely biased film that was not made as a result of Philip Leclerc's stated desire to embark on a fact-finding journey, but rather that the film was conceived and made with a bias and agenda that existed long before the first clip was ever shot. To be honest, I had forgotten about my interview with film-making brothers Philip and Chris Leclerc back in 2010 at the Simply Youth Ministry Conference in Chicago. I remember feeling like they never really explained to me what they were trying to accomplish with their film, but I granted the interview anyway. Philip and Chris are genuinely nice guys, but I recall walking away from the interview sensing there was an agenda. . . I just wasn't sure what it was. Now I know.
Divided is a not so much a documentary as it is a promotional piece for the National Center for Family Integrated Churches. . . a reality that left me feeling snookered and manipulated as a viewer. Being conservative and reformed in my own theology, I have been vaguely aware of this organization and some of its more high-profile champions. As I understand it, NCFIC endeavors to promote what they understand to be a biblical approach (or the ONLY approach)to the spiritual formation of children, which includes the elimination of any and all age-segregated programming in the church, including Sunday School and youth ministry. These champions trace youth ministry's lineage to paganism, evolutionary theory, and men who were rebellious against God. Leclerc spends most of his interview time in the film with these high-profile, intelligent, and well-spoken champions.
I'm sure that I'll be watching Divided again soon, and thinking more deeply about it's method and message. I know it will be talked about quite a bit in the youth ministry world and so it should be. In the meantime, let me pass on some random thoughts and responses in no particular order. Know that these are somewhat incomplete, but here's my start in what will be an ongoing process, I'm sure. . . .
–Divided is a film that asks some very good questions and addresses some issues in youth ministry and the church that must be addressed. There are things we need to repent of in youth ministry. . . our lack of depth, our willingness to jump in and think we can supplant the Biblical design for the parental nurturing of children in the faith, that we've relied too much on programs and fun and games, etc. In fact, these criticisms that are leveled from "outside" the youth ministry world by NCFIC are many of the very same criticisms that loads of us have been working diligently, prayerfully, and biblically to address from within for decades. It troubles me that none of that was ever included with any depth or honesty.
-Viewers need to remember that what they are seeing and hearing in the film is mediated. Sadly, it's mediated in an imbalanced manner. I know that the Leclerc brothers shot hours and hours of video that has been boiled down to the one hour that remains. The comments that were chosen for inclusion serve the film's agenda well. I wonder how many of the comments from kids and youth workers at the film's start were taken out of context, chosen to prove a point, etc. I also wonder how many that could have been included that might cast a more positive light on youth ministry and what God is doing were left on the cutting room floor. Any of us could choose commentary from teenagers that casts our particular message in a good light, while casting those who think differently in a more negative light. That's what happened here.
-The problem of the stunted spiritual growth of the emerging generations is complex and multi-faceted. Yes, a lack of father-involvement is key. In fact, many in youth ministry are addressing that. And yes, youth ministry that's more about fun and games than taking kids from a diet of milk to one of meat is a real problem. But what about consumerism in our culture and our church? Has that played a role in people serving idols rather than the one true God? What about all the creature-comforts we enjoy that supplant an opportunity to suffer and thereby passionately seek and rely on God? What about poor preaching? Divided is too simple in it's analysis, diagnosis, and prescription.
-How about a film on the numbers of young people who grow up in homes who are doing what NCFIC prescribes who are not walking with the Lord?
-The interview with Ken Ham was especially troubling to me. I wonder if Ken Ham has ever gone to a youth group where the youth worker understands his/her role as a secondary spiritual support, where the Bible is taught, and where deep thinking is encouraged? And, when did holding to a "young earth" view become the litmus test for spiritual maturity?
-I'm afraid that Divided and its message is rooted in a dualistic view that splits God's world into separate sacred and secular realms. There is a thread of poor understanding of common grace and general revelation woven in and throughout the film's message and theology.
-Can youth ministry and father-involvement/nurture co-exist? I sure hope so! In fact, I've seen it happen.
-After viewing the film, I'm wondering what we do with Sunday School or any other efforts to age-segregate in order to teach in ways that are cognitively appropriate. Seriously. . . should we jettison separate and simultaneous efforts to teach the parents the deep truths of the Scriptures (meat) while nurturing five-year-olds in another room with the milk of a children's catechism? After all, shouldn't we as parents be going deeper, and deeper, and deeper so that we can effectively nurture our own children?
-On a positive note, I believe that the film asks good questions about age-segregation in worship. It just shouldn't happen. I've been trumpeting that for years and so have many others in the youth ministry community. But again, there are times when we can separate from each other to be nurtured in age-appropriate ways.
So, those are some very initial thoughts about Divided. I can't wait for the conversation to continue. Watch it then weigh in. Overall, I'm concerned that this film, its tone, and its message will wind up being more divisive than constructive. I hope the latter is the case.
One last thought. . . Did God ordain film? The Bible never says that we should use the worldly invention of film to communicate. The Apostle Paul says nothing about film. Seriously. Just saying. . . .