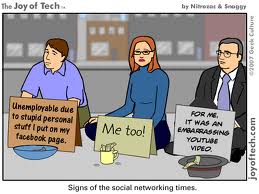 So we were asked a great question by our friend Kevin Vinay, a youth worker here in Pennsylvania. Kevin realizes that social media is here and here to stay. Knowing full well that anything in life can be abused or used correctly, he's struggling through the best ways to employ things like Facebook and Twitter in his life and ministry. Great question Kevin. . . and I hope that your struggle is shared by others. If not, trouble is ahead. Struggling through these issues is an important first step to the thoughtful reflection needed as a precursor to responsible use.
The way that I would answer your question has really been taking shape for me as I've been working on our Digital Kids Initiative here at CPYU. The seminars I've written and that I'm starting to present to youth workers and parents include what I trust is a balanced Christian response to life on the Digital Frontier, along with some helpful guidelines.
Before passing on some guidelines, let me give you a couple of realities to consider as you think about how you are going to use social media. The first is that you have a great responsibility to follow Jesus as you live on the Digital Frontier. In other words, you've got to realize that integrating your faith into your own choices is not an option. It's essential. Secondly, as someone charged to minister to kids, you need to train them to do the same. It's not just about seeing kids "get saved." It's teaching them how to be followers of Jesus in every area of life. For example, you want to train them in Godly use of text-messaging, Facebook, etc. Which leads to the third reality: how you choose to use this stuff is what speaks loudest to them about how they should use this stuff.
So. . . what about some guidelines? I'll save the ministry-use guidelines for tomorrow. For today, let me pass on some personal guidelines youth workers should embrace.
1. Realize that you are a broken person. As a result of our sinful natures, we're prone to using this stuff in the wrong way. We're not immune to sin, error, misjudgment, and habitual misuse of social media. In fact, I've found it helpful to constantly remind myself that I'm just one bad decision away from being a headline, from losing my job, from having to pay the consequences of poor judgment. That keeps me on my toes. Always endeavor to know God's will, and then seek to do the right thing.
2.Limit your tech/online/social media time. Were plugged in way too much. We're increasingly tethered. At the National Youth Workers convention a couple of weeks ago it seemed like everyone was walking around with their faces buried in their handhelds. I did it myself. Here's a great way to figure out if you're spending too much time with this stuff: ask your spouse, "Do I have a problem?"
3. Seek accountability. It's good to have friends who check in on you, tell you if you need to slow it down a little, and who can help you set and hold to parameters. Also, make sure your spouse or a trusted friend has all your passwords.
4. Realize that the whole world is watching. Anything you put out there is there for anyone and everyone to see . . . forever! You are creating a digital footprint.
5. Stop and think before posting, replying, sending, commenting. Proverbs 29:20 asks, "Do you see a man who speaks in haste? There is more hope for a fool than him." Proverbs 10:19 reminds us, "When words are many, sin is not absent, but he who holds his tongue is wise." Before you post. . . or tweet. . . or whatever . . . ask yourself these questions: Does this matter? Is this useful to others? Does this promote and reflect Kingdom of God living? Does this promote reflect service to the kingdoms of the world, the flesh, and the devil? Does this glorify God? Or, does this glorify me? Come on. . . why am I doing this. . . really???? Take, for example, our growing obsession with Twitter. Your students – or anyone else for that matter! – don't need to know where you are and what you're doing. What they need to know is who you are because who you are is what models life for them. If you are someone obsessed with tweeting where you are and what you're doing, then who you are at its possible worst is a self-centered narcissist, and what you are modeling (perhaps unintentionally) at its very least is self-centered narcissism. . and is that really what we want to model for our kids?
6. Be yourself. The online world is a place where we can so easily present ourselves as we most want to be seen. The Internet lets us "photoshop" our personalities and identities. Just be yourself. . . vulnerable. . . real . . . authentic.
7. Realize that you are not a brand. Don't market and promote yourself as if you are.
8. Don't put your spouse and kids out there. I was a ministry kid. I have ministry kids. Don't assume that they'll like or embrace the limelight or that the limelight is good for them. There are folks in the youth ministry world who are forcing their families into the public spotlight ala my former neighbors, Jon and Kate. Let's be discerning, fair, and mature. We are posting too many pictures, videos, etc. and I always wonder "why?" The fallout won't be good. When they get older, we can ask their permission and include them if they'd like. But when they are young. . . don't force that on them.
9. Don't post or communicate anything you wouldn't be willing to say from the front of the church.
10. Watch your private one-on-one communication with members of the opposite sex. This includes your interactions with students, your leaders, and parents. One-time communication is fine, but extended and ongoing conversations. . . avoid them. It's like being alone with someone you shouldn't be alone with. I've seen and heard far too many stories about innocent communication that slowly (or quickly) turns into an emotional or physical affair.
11. Pursue digital maturity that reflects deep spiritual maturity.
12. Turn it off on a regular basis. Shut it down. Use the time to focus on others. Use the time to think deeply without distraction. Use the time to live deeply without having to be tethered.
Tomorrow. . . some guidelines on how to use this stuff "redemptively" in youth ministry.
And Kevin. . . for prompting today's post we're going to send you a copy of Tim Challies' great book on faith and technology, The Next Story.
Anyone else have any helpful guidelines to share? The person who posts what we judge to be the most helpful guideline will get a free copy of The Next Story as well!