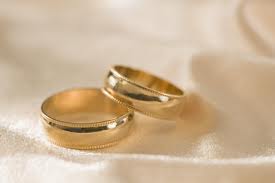 The latest edition of ByFaith Magazine includes an article by Susan Fiske on "The Spiritual Costs of the Missing Family." It's an article about marriage and its demise in our culture, citing the fact that marriage is now occurring less frequently and much later in life. At the same time, there's been an increase in cohabitation, also known as "living together." The article reports that children today are far more likely to spend part or all of their childhood in a cohabitating household, than they are to see their parents divorce. Makes sense since cohabitation has increased 14-fold since 1970. (Amazing fact to ponder, isn't it?)
Researchers have been busy crunching the numbers to see just how many people are choosing to cohabitate in today's culture. All we need is a set of eyes to know that marriage continues to decline and more and more young adults and older adults are choosing to live together. As Christians, we must remember that while "it's not good for man to be alone," God's intention was for a committed and exclusive monogamous relationship between a married man and woman. A "marriage" without the commitment is really not a marriage at all.
Susan Fiske looks at just how wrong and dangerous the cohabitation alternative really is. In a sidebar in the article, she cites a report from the Institute for American Values and the National Marriage Project and five themes that illustrate current trends. Here they are:
1. Children are less likely to thrive in cohabitating households, compare to intact, married families.
2. Family instability is generally bad for children.
3. American family life is becoming increasingly unstable for children.
4. The growing instability of American family life also means that contemporary adults and children are more likely to live in what scholars call "complex households."
5. The nation's retreat from marriage has hit poor and working-class communities with particular force.
There are deep implications here for our families and for youth ministry. Are we building our marriages? Are we spending too much time focusing on things other than our children? Are we communicating a Biblical vision for marriage and trumpeting it's great mystery, wonder, and blessings? Are we challenging cultural conventions – like cohabitation – from a Biblical perspective? Are we calling sin "sin?" Are we preparing our students to honor and glorify God in every area of their lives as they move into adulthood?