During my first three years in youth ministry. . . fresh out of college. . . I would attend church board meetings in order to report on our ministry and get approval for my plans. One of the old guys on the board. . . a guy named Jack. . . would sit during those meetings in a big old wing back chair in the corner of the church parlor (yes, there was a room called the parlor!). Jack very quickly instilled in me a dread that would start to rear its ugly head a few days before the meetings. It was as if Jack had been waiting for the church to hire me so that he could sit on that throne and question every single thing I wanted to do in youth ministry. With his constant flow of "Whats?", "Whys", and "Hows?," Jack very quickly became a royal pain in my butt.
Eventually, with a little help from other folks at the church, a bit of maturity on my part, and an effort to get to know Jack, I began to understand the method behind his questioning madness. Jack was not trying to make my life miserable. Instead, he was trying to make my ministry more God-honoring and effective. In hindsight, I realize that Jack was on my side the entire time, and he was making me a better youth pastor.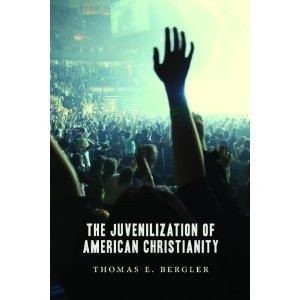 The youth ministry world is about to be introduced to another royal pain in the butt. Thomas Bergler, Associate Professor of Ministry and Missions at Huntington University, has written a disturbing book that will be released in April. . . The Juvenilization of American Christianity. I call the book "disturbing" because it's going to shake us up. I'm currently reading the manuscript as I've been asked to write an endorsement. Bergler brings together history, theology, sociology, and developmental theory in a brilliant mix that's going to make the church – I hope – sit back and ask ourselves some pretty hard questions about what, why, and how we've been doing things.
"Juvenilization," writes Bergler, "is the process by which the religious beliefs, practices, and developmental characteristics of adolescents become accepted as appropriate for Christians of all ages. It begins with the praiseworthy goal of adapting the faith to appeal to the young. But it sometimes ends badly, with both youth and adults embracing immature versions of the faith." He goes on to explain how our churches now pander to American consumerism, self-centeredness, and immaturity of American believers. He clarifies, "The story of juvenilization is a story not of a sinister plot or a noble crusade, but of unintended consequences and unquestioned assumptions."
I'm not yet finished with The Juvenilization of American Christianity, but I'm really liking what I'm reading. I'm sure I'll be blogging on this book more in the coming weeks. At this point, I'm thinking that Bergler is offering a nice follow-up to Christian Smith's Soul-Searching.
Here's a little interview clip with Bergler that will give you a taste of what the book is all about. If you can't bear to sit through the entire 15 minutes of the interview your impatience might just prove Bergler's point! Church, youth ministry world, and fellow juvenile Christians. . . meet Thomas Bergler. . . a royal pain in the butt whose arrival is timely and even long overdue! . . .