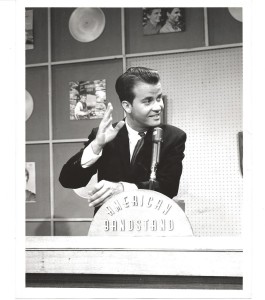 The history of popular youth culture as we know it is a short one. Real short. Post-World War II to be exact. And I think a case could be made for the fact that nobody other than Dick Clark served as the most public and well-known dispenser of all thing youth culture. His death serves to give us pause to think about where youth culture has come from, how much it's changed, and just how powerful it is.
Back in the mid-1950's, Dick Clark was part of a new radio movement. . . a movement where popular records were played. That served to launch the careers of a very select few artists (select few as compared to today's online-fueled music glut, artists who began to shape both individual and collective values, attitudes, and behaviors. His long-running stint on American Bandstand – one of the only televised pop music outlets of the day – was accidental. He was a fill-in for the local Philly host. Clark eventually got the full-time job when that vacationing host got in trouble for drunk-driving. . . a personal behavioral snafu that used to be seen in a negative light. (There's a way youth culture has certainly changed!). In 1957, Clark's local show went national and was dubbed American Bandstand. The rest is history.
For a long, long time, Dick Clark was the gatekeeper of youth culture. Much like Johnny Carson did for young comedians, Clark made careers and shaped youth culture. Youth culture would not be what it is today without Dick Clark. As Clark aged, I often wondered what he really thought about the turns pop culture has taken. Clark made lots of money for all his efforts, a reality which we all know can cloud good judgment and high moral principles.
But his age and experience could combine in some wisdom that left him lamenting the shift from pop culture things that used to be relatively harmless and innocent (see the video I've embedded below) as compared to the fare the music industry throws at us today. I guess we'll never know.
Still, pausing to ponder Clark's career and the youth culture changes that filled those years should be a helpful exercise. Dick Clark didn't launch American Bandstand in a perfect time or place. People were irreparably broken and in need of a Redeemer in 1957, just like they are today. What's different is our understandings of what constitutes virtue and what constitutes vice. Consequently, a closer look at the Dick Clark timeline might serve to wake us up and remind us of the prayers we need to pray and the work we need to do.