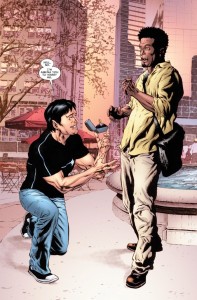 Northstar proposes to Kyle

So yesterday the world's comic book fans found out that
Northstar
proposed marriage to his boyfriend Kyle. A mutant who is a member of the super-hero X-Men of
Marvel Comics
fame, Northstar and his boyfriend Kyle will be getting married next month when
Astonishing X-Men #51
releases on June 27. Writer Marjorie Liu – the one who's penning the Northstar marriage story – knows that the move is controversial. Still, she says it reflects what's happening in our society. She's right. Liu's motivation in writing the story is at least partially fed by what she says is knowing what it means for the world to look down on two people in love. Her dad is Chinese and her mom is American.
The comic book's same-sex wedding is certainly reflective of what's happening in our culture. Our understanding of love, sex, marriage, and homosexuality is all over the place. Differences in understanding and belief run across political, demographic, and geographical lines. It's complex. And if you're a parent or youth worker, you also know that differences in belief and opinion run across generational lines. At times, I'm encouraged by the fact that compassion is growing among the younger generations. That compassion, I hope, is spreading into the church. But compassion is blurring with tolerance and acceptance. That's a trend that's cause for concern.
In his book The Meaning of Sex, Christian ethicist Dennis Hollinger reminds us that a truly biblical and Christian understanding of marriage sees marriage as a covenant between one man and one woman who promise faithfulness within an exclusive and monogamous heterosexual relationship. But the culture-at-large and the culture in the church is changing and changing fast. Now that Marvel Comics is in the game, it will change even faster. No, I don't believe that the Northstar story line is going to precipitate a massive and fast cultural shift. Northstar's proposal to Kyle isn't the catalyst for culture reaching a tipping point. But we can never forget that cultural artifacts (particularly media of all sorts) are not only reflective, but directive. They aren't just a mirror. They're a map. And the map-readers in this case are Marvel Comic book fans. . . many of whom are extremely young and extremely impressionable.
Northstar's proposal to Kyle and impending wedding serve as another reminder of the diligent intentionality that's needed if we hope to counter culture's powerful, pervasive and compelling messages with the design of the One who made marriage. Now is the time to be talking to kids about marriage and about marriage right and wrongs. Northstar's given us an opportunity to get the discussion going. Ask the kids you know what they think about it all? Then, affirm or challenge their thinking by talking about how God designed it all.