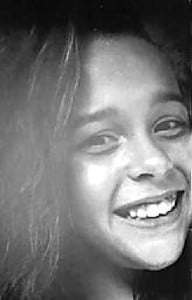 Jasmyn Smith
Maybe it's because stories like these are becoming more and more common that this one – as tragic as it is – has sort of fallen through the cracks. It happened here in Lancaster County where I live. Eleven-year-old Jasmyn Smith would have been starting sixth grade this week. Please read that last sentence again. . . Eleven-year-old Jasmyn Smith would have been starting sixth grade this week. Instead, Jasmyn's parents will be burying her this Saturday. This was not a teenager. This was a very, very young girl.
What happened? Reports say that Jasmyn had been bullied in school and online for about a year. She attempted to take her own life by putting a belt around her neck. I'm not sure of all the details, but she didn't die right away. She did eventually pass away at the Hershey Medical Center. People in Columbia – Jasmyn's hometown – have rallied in support of her family and against bullying of all types.
As I've tried to follow Jasmyn's story I've noticed that it hasn't gotten the kind of attention a story like would have most likely gotten 10, 20, or 30 years ago. Again, that's a sign of our bully- and violence-filled times. That which is common is no longer surprising. . . or as the news media goes, sensational enough. Jasmyn's age reminds us that "age-compression" has ushered a whole catalog of pressures, problems, challenges, choices, and expectations into our elementary schools. The younger the age, the more vulnerable a child is. the younger the age, the less-resilient a child is.
Jasmyn Smith's story should drive our prayers. Her story should drive our efforts to thwart bullies and to prevent bullying. Her story should drive home our need to be vigilant, to listen, and to intervene. Bullying is reflection of the fact that the world we live in is not the way it's supposed to be. And it reminds those of us who have called into the Kingdom of God to live out those Kingdom values and priorities in the midst of this garbage.
Whether you're a parent, youth worker, pastor, teacher, or grandparent, I want to encourage you to broach the subject of bullying with the kids you know and love. Here at CPYU, we've prepared a tool to help you deal specifically with the problem of cyber-bullying. Our Parents' Guide to Cyberbullying is a free download that's part of our Digital Kids Initiative. I encourage you to download it, pass it around, and talk about it.
Here's a preview of some steps for intervention that we've listed in our Parents' Guide to Cyberbullying:
Because we live in a broken world, there will be times when we need to intervene on behalf of our children
when they are cyberbullied. Here are some steps you can take when intervention is necessary:
• Begin by listening hard to your children, looking for the facts and keeping good written records. Remain
calm. Don't over or under-react.
• Assure your child that you are going to walk with them through this difficult time, that you will support
them and that you will work with them to find a resolution.
• Keep the lines of communication open with them while being even more diligent than usual in your relationship with them. This affords you the opportunity to watch them carefully, to support them and to build
their resiliency.
• If they are in close and meaningful relationships with other trusted and supportive adults (teachers, relatives,
youth workers, etc.), inform those people so that they can offer encouragement and support.
• If you are able, contact the parents of the cyberbully and share the facts by using your written records. Ask
the parents to deal with the situation in a way that will lead to 1) the removal of all threatening/harassing
online posts, and 2) the discontinuation of any additional follow-up or retributive bullying behavior of any
type.
• If the cyberbullying attacks occurred while your child has been at school, notify school authorities.
• If your child's safety is in danger, contact law enforcement authorities and give them copies of all written
notes and correspondence.
• Do not be afraid to seek outside help and counseling if your child is struggling either as the cyberbullied or
as the cyberbully.