Youth workers and parents. . . if you haven't yet talked to your students about same-sex attraction and the Christian faith, you need to now. The events of the last twenty-four hours and the chatter that's ensued and which will continue over the coming days affords us a wide open opportunity to get a more accurate feel for the cultural climate, to prayerfully craft a response that's glorifying to God and faithful to the Scriptures, to examine our own hearts and actions, and to think about what this all means for our now and for our future. To be honest, this is making my head spin. . . about our culture, about same-sex attraction, and about who I'm called to be as a particular follower of Christ living in this particular time and place.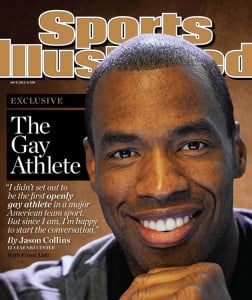 NBA player Jason Collins has come out. No, he's not the marquis athlete that many of us suspected would be the first active male athlete to tell the world, "I'm gay." That's yet to happen. . . and we can expect that it will in the next few days. A couple of interesting things to consider as you watch the cultural curtain peel back in response to Collins' revelation will be 1) If he's pursued with endorsement opportunities, and 2) If he signs with another team (he's a free agent without a team right now). His playing future is under the microscope and will be dissected whether he's picked up by a team (making pundits wonder if he was signed for his playing skills or signed as a poster boy for the issue), or if his playing days are over (making pundits wonder if he wasn't touched because of his abilities, or because of his sexual preferences). By the way, I think it's quite telling that both of those things show just how powerful marketing and branding are in our world.
Equally fascinating and noteworthy was the response of ESPN NBA insider Chris Broussard. . . a response that is getting and will get just about as much press and attention as any other response out there. What is notable about Broussard's response (see video below) is that Broussard is being open about his convictions and his desire to be faithful to God's Word. Broussard is already getting hammered by those who have no sympathy for the Christian faith and who are not listening with accuracy to what he is saying. This too, is quite telling and worth watching as we sort out our current cultural climate and the responses Christians will hear to their own responses. . . regardless of how orthodox or compassionate those responses might be. In fact, when I watched the Broussard video clip on YouTube this morning I curiously scrolled down to the comments where a full-on battle was raging with words, profanity, and accusations flying all over the place.
The issue is complex. The issue is volatile. The issue is here and it must be addressed. Because the issue involves people, it is that much more difficult for those who are called to show Christlike compassion. Today, if you haven't already spent loads of time working through the issue it might be best to keep quiet in terms of public commentary. To sit back. To watch. To listen. To ponder. To study. To read. To pray. To consider what it means to respond to Collins, to Broussard, and to anyone with an opinion (regardless of where they fall on the spectrum of opinion. . . pro, con, and in-between) in a way that brings honor and glory to God. Stop and take a deep breath. Get your bearings. Look deeply into the Word of God. . . true north. Then, look deeply. . . first into yourself and then into our world.
How will you talk about this with the kids you know and love? And, what will you say?