Stupid. Now, it seems just plain stupid and risky.
Thirty-five years ago I was a freckle-faced youth ministry rookie. . . twenty-one years old, just out of college, exuberant about ministry, naive, and incredibly naive. I had just signed on to do full-time ministry with the Coalition for Christian Outreach, a campus ministry organization based in Pittsburgh. I was single and working about 80 hours a week, splitting that time between ministry on the local college campus and doing youth ministry in a local church. A good portion of our time was spent doing "contact work." That was ministry code for getting to know kids. Being somewhat extroverted, it fueled me. But thinking back to those early days and many of the years that followed, there was a "stupid" component to my ministry. . . in fact, it was a "stupid" component to the way everyone I knew in ministry was doing ministry.
The "stupid" part of our ministry had to do with the way in which we engaged with students. It didn't seem at all stupid at the time. After all, it all seemed so innocent. But filtering our ministry efforts through the framework of life in today's world. . . WOW! . . . I'm not sure it was really all that smart and I'm grateful that my innocence never got me in trouble. For example, the ultimate way to get to know a student was to spend time in their bedroom. The bedroom was the student's space. You could learn a lot about a student's heart, beliefs, worldview, and convictions by looking at their walls, checking out their music collection, scanning their bookshelf, etc. For someone like me who had been trained in sociology and anthropology, this was always an amazing ethnographic opportunity. It still would be a great way to get to know kids if we didn't live in such a dangerous and creepy world. But too much can happen. We know that, especially if we know ourselves. In hindsight, I realize that even the perceived and actual value of all that time I spent in the car with kids – alone and in groups.. . both male and female. . . sure, it was amazing ministry time filled with significant conversations, but I'd never do that today.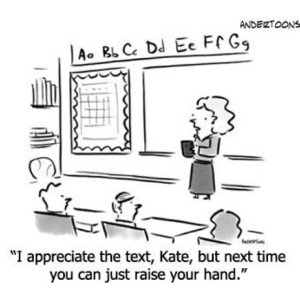 In recent years, I've had loads of opportunity to train youth workers in how to get to know kids, how to get to know their culture, and how to do youth ministry in a rapidly changing culture. I believe that it's that rapidly changing culture coupled with the reality of our own fallenness that requires us to exercise wisdom, diligence, and discipline as we set parameters for how we spend time with our students. Time with them is necessary and required. But I have to admit some concern regarding the lack of parameters and boundaries that I sometimes encounter. I've done a complete about-face. . . telling youth workers to stay out of kids' bedrooms and to avoid time alone in the car. You might never do anything or even think of doing anything, but you have no control over what others might do or say regarding that time. It's best to be prudent and safe.
Tim Keller defines "wisdom" as "competence with regards to the complex realities of life." He says that wisdom includes insight (knowing how things really work in the world), prudence (knowing how things really are in the world), and action (knowing what I should do about it). Youth workers need to pursue wisdom and live wisely in the world. That includes how we spend time with and relate to kids. It's about both hindsight (learning from the past. . . both our own past and the past of others) and foresight (anticipating how to live in the world in light of what we've learned from the past).
Which leads to this question: "How can we exercise wisdom in regards to our use of social media with kids?" It's an important question that not only sets good boundaries for our relationships, but it's also instructional as we nurture kids into a lifetime of living wisely in the midst of all the distractions and tools that they've been given.
I have one quick suggestion for how to make that happen. It has to do with text-messaging. My thoughts are prompted by some pretty direct questions I fielded last week from some youth workers who were considering how to set text-messaging borders and boundaries. They specifically asked about what could go wrong, and they had a desire to prevent that from happening. Their question prompted me to think back to my own early years of youth ministry and the fact that asking those kinds of questions never even crossed my mind. I was impressed! I was also prompted to think about wisdom and the need to apply wisdom to life and ministry in a rapidly changing culture.
My suggestion is this: even though text-messaging is the preferred method of communication for students, it isn't the best method of communication for anybody. Face-to-face communication is always the best. . . and I fear that we're losing the ability to do that effectively. That doesn't mean that I'm saying you should stop texting. I don't think that at all. There's a time, a place, and use for texting. Instead, we should be texting wisely. . . even redemptively. We should be texting in an "in but not of the world" kind of manner. That's the way we should be doing everything, right? Here are three quick standards that I encourage you to consider:
Don't nurture kids into text-based communication. Always opt for face-to-face communication so that you can communicate deeply while nurturing them into an art that is on its way to being forgotten.
Be very careful about texting one-on-one with students. I used to advise against one-on-one texting with students of the opposite sex. I liken it to riding alone in the car. But in today's cultural setting, it might be best to start considering the avoidance of one-on-one texting with students of any sex. If that doesn't sit well with you, just take a moment to contemplate what could go wrong.
Make texting one of the ways you communicate with kids. I think there's a great value to mass-texting. Mass-texting your entire youth group is a great way to spread the word.
Always, always, always think about your text message before you send a text-message. Is this wise? Is this helpful? Could this be misinterpreted?
A word to the wise from someone who's been there. . . do youth ministry today in a way that you will never be able to label as "stupid" or "risky" 35 years from now.