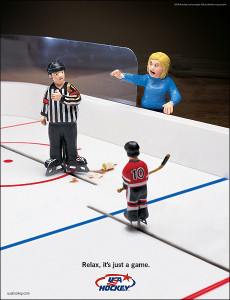 Are you caught up in Little League World Series mania yet? I've tracked the annual event since I was a wide-eyed Little League dreamer myself, playing in the East Abington Little League outside of Philly. There was never any post-season for us. . . you'd have to win a few regular season games to make that happen. But a kid can dream, can't he?
This year I've been enjoying watching the Taney Dragons (from Philly!) and their highly publicized female pitcher, Mo'Ne Davis. It's been fun. Last night as we watched the team rally in the last inning to beat Texas, Lisa and I spent some time talking about the players' parents and the ups, downs, and pressures they were feeling while sitting among 30,000 people in the stands up in Williamsport. At one point, I turned to Lisa as the camera showed a nervous mom with her head buried in her hands as her son was at the plate, and I asked, "Remember that?!?"
Our kids are now grown. They no longer play organized sports. In some ways, I'm glad. In the few short years since they were playing and we were either spectating or coaching, things have changed. The goals of learning, trying hard, and having fun have been forgotten by so many coaches, parents, and kids. Now, winning is everything. Kids are training and specializing before they are even old enough to ride a school bus. And vicarious living seems to be happening on playing fields and courts everywhere as parents unashamedly endeavor to fulfill their own broken athletic dreams through their kids. I feel my heart ache just about every time I stand on the sidelines at a youth sporting event.
In the past, I've talked about the horrible realities facing kids who are either forced or willingly play under this kind of pressure. This morning, I saw a Facebook post from my son Josh that's got me thinking about another aspect of this parental pressure. You see, sports are formative. They can form us for either good or bad. Much of that depends on the approach the "formers" (parents and coaches) take. Sadly, the formation will tend to be negative is the "formers" are emphasizing the "now" result over and above the "future" result. The formation tends to be negative if the emphasis is on today's scoreboard over and above tomorrow's character. I like what Josh says and I respect it. He's an athlete, a teacher, and a high school coach. He's not a guy who's got some axe to grind. Rather, he sees clearly what it is we are doing to our kids.
Josh posted these words: "If you are a parent of an athlete, I urge you to double-check your priorities. Your son or daughter will be a mother or father before an athlete…your son or daughter should play the game because they love it not because you love it. Your son or daughter is not defined by performance but by character and attitude. If you feel winning is more important than the hard work and character that is the recipe for winning then you need to prioritize your thinking. All ability can be lost in a blink of an eye, but character and attitude live on. Winning is only most important when character, hard work, and attitude are part of the formula. Winning is a product of all these things."
Sport is a good thing. Sport is not the ultimate thing. God made us to play. When we play, we are to play to His glory. We can either be conformed or not be conformed to the way the world is playing. I believe we need to be playing and parenting differently. . . playing and parenting as salt and light. Our kids, our culture, and sport will be the better for it.