No, it didn't take long for the film Elf to become a holiday classic. I've come to love it.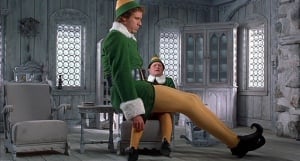 There's something about seeing innocence and truth clash with the harsh realities of a broken world that reminds us of what's most important in life, and can even serve to remind us of the hope that is ours because of Christmas. Just as Buddy the Elf comes from another "world" and bursts in to the brokenness to upset the spiraling down of the status quo, so too has God sent His Son to undo the mess that we have done.
Perhaps you live in a home where this time of year occasions playful mutterings of "Buddy quotes". . . you know, those "elfisms" that make you laugh no matter how many times you hear them. . .  "I'm a cotton-headed ninny-muggins" . . . ""You did it! Congratulations! World's best cup of coffee! Great job, everybody! It's great to be here" . . . "You stink. You smell like beef and cheese! You don't smell like Santa" . . . "We elves try to stick to the four main food groups: candy, candy canes, candy corns, and syrup." . . . . etc.
While watching Elf last night, one little interchange between Buddy the Elf and his newly-discovered younger brother, Michael, got me thinking. Michael tells Buddy that their Dad is "the worst dad in the world."
"What do you mean?" asks Buddy.
"All he does is work."
Buddy enthusiastically replies, "Work is fun!"
"Not the way he does it," says Michael. "All he cares about is money. He doesn't care about you, or me, or anybody."
Why do we work? God has made us to work. We image God by working. Through our work we create culture. In our broken and fallen world, our work is to be done to the glory of God with joy and with a bent towards redeeming the brokenness that's all around us. Yes work matters. Buddy and Michael remind us of what's wrong with the way we work and what's right with the way we should be working. Buddy gets it. Walter, his father doesn't.
In his book, Visions of Vocation, Steve Garber reminds us that in the midst of the brokenness of this world, our innocent childhood dreams do not always work out. Because of the Jesus we celebrate at Christmas, there is a day coming when all things will be made new. But until then in this now-but-not-yet in-between, we need to keep at it. Garber writes, "When we find that all that we hope for does not happen, that sometimes the worst things happen, what then? When we discover that our best hopes have been disappointed, what then? Some choose versions of stoicism or cynicism (Walter???), deciding for very good reasons that 'I've had enough.' But then, with surprising grace, some choose to keep at it, hard as it is. . . they choose proximate satisfaction in work, knowing that even at our best we will not achieve all that matters to us and to the world. . . It is a choice to live by hope, even when hope is hard."
And so we endeavor to enjoy work, to work to the Glory of God, to work for the common good, and to endeavor to have fun as we work.
Yes, even Buddy the Elf and his twelve-year-old brother make us think!