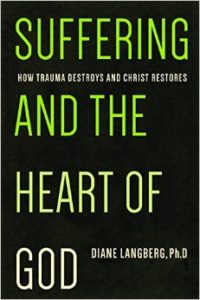 I'm on my way home from a wonderful yet difficult weekend spent in Longview, Washington. Thanks to my friend Chris Lyons and his team in the Longview community, Marv Penner and I were able to spend yesterday presenting our "Tackling The Tough Stuff" seminar. While it's as good day, it's also difficult due to the fact that brokenness fills our world, including the lives of many who were in the room with us yesterday. We fielded difficult questions and engaged in heart-breaking conversations over the course of the day.
On the way to and from I've been reading Dr. Diane Langberg's book on brokenness, Suffering and the Heart of God: How Trauma Destroys and Christ Restores. Diane is not only an experienced and effective therapist, but she's also a thoughtful follower of Christ who thinks deeply and theologically about the hurt and pain that fills our world and lives. This book is one I'm sure to return to over and over.
As you begin your week I thought I would pass on a few sentences from Suffering and the Heart of God that caught my eye and caused me to pause to ponder the amazing reality contained in the words. I hope you find this both encouraging and helpful. . .
". . . the greatest suffering is not from disease, loss, trauma, abuse, or death. Rather, the greatest suffering is to be lost in one's sin, forever at enmity with God. Every other kind of suffering is temporal – for a moment – and will be exchanged for the glory of living with Christ face-to-face."