I'm like Pavlov's dog.
Since today is the first day of school in our community, the school bus went down the street bright and early. . . and I began to "salivate." In this case, salivation takes the form of a quick memory-whisk back to my own summer endings and school beginnings. . . and the sense of dread that came with pencils, books, and teachers' dirty looks. For me, it was always the last day of the school year that felt good.
As I've gotten older, I've pondered they why's of my younger self's attitudes and feelings about school. The fact that school became for me a kind of necessary evil is rooted in a variety of factors, many of which were my own issues and problems. Yes, I have regrets.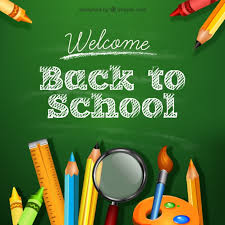 It might seem a bit unfair to skip over my regrets regarding myself to mention my regret regarding teachers. You see, as I was laying in bed and trying to fall asleep last night I thought back to all the many teachers I had over the years. I'm always at a bit of a loss when someone in a group decides that a good get-to-know-you question is to ask, "Who was your most influential teacher and what is it that made them influential?" I have a tough time with that one. I need to go all the way back to first grade and Miss Wallace. After that, there's nobody that stands out. Perhaps there's nobody that stands out because I went through the rest of my school career not standing out to any of my teachers. I honestly can't say that any of them stepped into my life in the significant and powerful ways that so many other of you can recall. It just didn't happen for me. In hindsight, I wouldn't say that this ruined school for me. Rather, it just didn't make it better.
Reality is that I had parents and youth workers who cared about me deeply. Maybe it's all relative. But I still think teachers can and should be mindful of the potential they have to influence a student. And for the Christian teacher. . . well, that's actually a calling.
As school begins, I want to ask you all to pray for the teachers out there. They've got a tough job. It's gotten much much harder over the years. Cultural change has changed students and it's changed schools.
And, for all you teachers out there. . . thanks for what you do! I see the just how hard it all is when I watch my own two children pursue the vocation of teaching in today's world. I can't imagine. . .
To encourage you all today I want to pass on to you some words from a couple of public school educators I know.
First, there's Nate. . . a high school administrator. He told me this last Spring: "I see being an educator as an intrinsic moral calling and nothing less. I believe that when an educator feels that way they will always put the student first before their own self desires and/or needs in education." Wow.
And then there's my friend Daniel. He's an inspiring student himself who is part of our current Doctor of Ministry in Ministry to the Emerging Generations cohort at Gordon-Conwell Theological Seminary. Daniel's got this crazy ability to offer perspective that pushes those of us who know him to look at things in refreshing ways. He's stepped out of youth ministry for a season while God opens the door for him to teach. This is a new venture for him. . . and his school started today. Last night, Daniel posted this on his Facebook page. . .
Ok guys, tomorrow I start my job as a missionary. I will be serving students as a 7th grade math teacher in one of the poorest communities in Charlotte. On top of that Charlotte is ranked 50 out of the largest 50 us cities in upward mobility meaning it is the hardest city to change socioeconomic standing.
If you would like to join me in this, comment to let me know that you would like to join my prayer team. I will have a private Facebook group that I will share more specific prayer request, success stories, my joys, and my struggles. There you can help by praying I have wisdom on how to show love and hope with students, and praying that students see their potential and realize they were made for great and wonderful things.
So let me know if you would like to join me in this year long mission! Thanks guys!
Sounds like Nate and Daniel have been talking. Sounds like the rest of us should be listening.
And, I wish I could have had both of these guys as teachers.