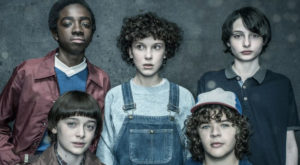 It's back. Stranger Things that is. I'm glad. Perhaps I'm just a big kid, but watching season 1 of the Netflix series hooked me. I'm not a science fiction fan so the attraction was a bit of a surprise to me. I get why so many kids binge-watched the first season, and why so many will be binge-watching or have already binge-watched the nine episodes in Season 2. Lisa and I  watched the first four Season 2 episodes last night. Anyone want to guess what we'll be doing tonight?!?
This last weekend, I had the opportunity to speak to youth workers at the Rooted 2017 conference in Dallas, TX. One of my sessions introduced folks to principles of cultural exegesis. . . a task I believe is not only commanded by our Lord (to be in but not of the world), but occasioned by the breakneck speed of cultural change and our kids' immersion in media. We are, after all, cross-cultural missionaries. And in a world where media tastes and involvement are all over the map, the widespread appeal of Stranger Things offers us an increasingly rare moment of opportunity to pull together a large number of our students who have engaged with this cultural artifact in order to teach them how to think critically and Christianly about music and media. But how do we best do that?
A couple of hours ago I was rummaging through an old file cabinet here at CPYU in an effort to discard some stuff that I haven't touched or used in years. I came across a file folder holding a sheet of white paper with these words in big print up top: "How To Use Your Head To Guard Your Heart: A Brief Guide to Your Role in Making Responsible Music Choices." And there it was. . . almost thirty years old. . . the first edition of our long-standing 3(D) Media Evaluation Guide. . . printed out in all its' glory on a laser printer! It was a timely discovery that got me thinking about the golden opportunity we have to use Stranger Things to nurture kids in the faith by moving them from a posture of mindless consumption to a posture of mindful critique by teaching them the 3(D) method of Discovery, Discernment, and Decision.
So youth workers. . . here's how I'd do it. . .
First, survey your kids. How many of them are watching Stranger Things? Get the numbers. And then once you know that you've got at least some of them watching, take the next step.
Second. . . and next step. . . is sit down with their parents. Let the parents of the kids who have watched Stranger Things know that you'd like to take the opportunity – with parental permission, of course – to watch with the students who have already seen it. Be sure to give parents the option to opt their kids out. What that does is protect you from unnecessary pushback.
Third, watch with your students. . . . one episode at a time. . . maybe over the course of nine weeks. At the end of each episode, think with them about what they've just seen. And without apology, I'm going to push the latest edition of our How To Use Your Head To Guard Your Heart: 3(D) Guide To Making Wise Media Choices on you. I believe in this methodology and this tool, as it not only gets your kids engaging with media to the glory of God, but it will develop tools which they will use to process everything they see and hear for the rest of their lives.
Without hestitation. . . I cannot emphasize enough just how important and necessary it is to teach kids these skills and actually involve them in Bible study occasioned by the themes they will encounter in Stranger Things. Netflix has dropped a big opportunity in the laps of parents and youth workers. TAKE IT! We've had tens of thousands of students get trained in the 3(D) media evaluation method over the years. . . and it's growth-inducing and transformative.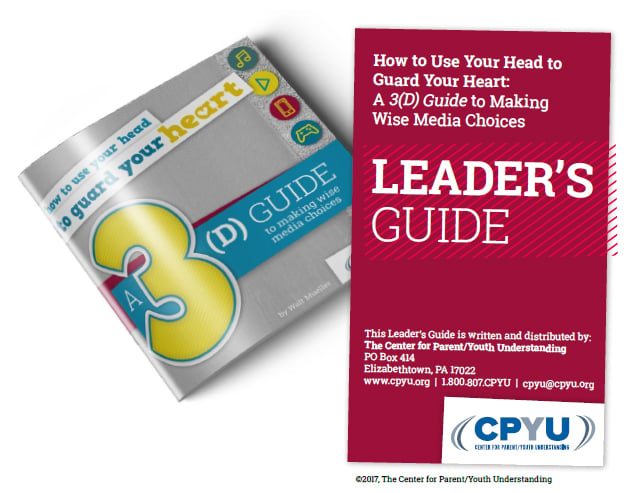 Check out all our related 3(D) Media Discernment Resources by clicking here. You'll find:
some downloadable sample pages
and our Media and Music Survey
* Stranger Things Special: Enter the coupon code STRANGERTHINGS at checkout to receive 20% off your order of 3(D) Guides. Good through November 15, 2017.