Is it my age? My experience? Is it good old common sense? Or, is it some combination of all three? I haven't yet figured out where its coming from, but "it" is the way that I'm teetering very close to telling parents to buck the trend and love your kids by keeping the smartphone out of their hands for a good long time beyond the average age. . . 10.3 years-old. . . when a child now gets his or her first smartphone. Ten-years-old is way too young. Most people will think that my recommendation will be way too old and way too ridiculously unrealistic.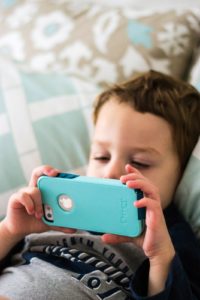 Step back and take a look at the current digital landscape. The smartphone has been on the scene now for just over 10 years. That said, we've got a generation of parents who are able to look in the rear-view mirror to assess just how well the whole kids-and-smartphones thing has gone in their family. My research isn't at all scientific, but I've yet to meet a parent who looks away from the rear-view mirror to excitedly say, "I wish I had given him/her that smartphone earlier!" Rather, I'm hearing proclamations of lament and regret. Many of them begin with "If I had only. . . "
Our CPYU Digital Kids Initiative was launched several years ago in response to the sheer volume of "When should I get my son/daughter their first cell phone?" questions I was fielding at our youth culture seminars. I had no idea how to answer. What I did know was that technology is a good gift from God that can be used in ways that either lead to our human flourishing, or to our demise. I also knew that children and teens would be growing up to inhabit a world full of technology. Consequently, a parenting task that could not be overlooked was training kids to use technology in responsible, God-honoring ways. That meant that just like in driver-training, kids would need to spend supervised and monitored time "behind the wheel." Let them use the tools.
I still believe those things, but we are now learning enough from our looks in the rear-view mirror to warrant some adjusted thinking.
It was just about a year ago that I spoke with a mom who told me that her daughter's phone had been confiscated by the police. The issue was that she had answered a sexting request from an unknown person. Her best friend had done the same and her phone had been confiscated as well. Some might say that two girls should have known better. The reality is that they were both from Christian homes, both attending a Christian school, and both. . . 10-years-old. Maybe they weren't at a point developmentally where they had enough knowledge and experience to process a request for nude pictures from an unknown teenage or adult male. Maybe they didn't know better. Why then, did they have phones?
And this is where parents come in. We need to function at the level of wisdom and common sense. As I heard a pastor friend once ask, "Why would a parent put a live hand grenade in the hands of their child?"
Overreaction? I don't think so. We're reaching a tipping point where we are going to have to honestly assess the balance between risk and reward. And if we are pushed over the edge by believing that the tension between us and our kids from pushing back on their demands is too great a risk, perhaps we need to think again. That's what parenting is. It's not about coddling kids and giving them everything they want. It's about protecting them from harm (even themselves!), providing for their well-being, and teaching them to live to the Glory of God within the safety of ever-expanding borders and boundaries. . . regardless of their inevitable pushback and how it makes me feel.
So back to the question at hand. . . "At what age should a child get a smartphone?" There's no one-size-fits-all answer. We need to take into consideration age, maturity-level, trustworthiness, etc. Overall, however. . . it's happening way too early.
More later. . . .
To take a look at some suggested borders and boundaries, check out our Free Family Digital Covenant of Conduct.