I've been having this conversation with youth workers ever since we kicked off our Digital Kids Initiative several years ago. And, because we youth workers have a tendency to jump into the river of what's trending with little or no pause, this conversation is necessary. The conversations are always spirited when we get to talking about the benefits and liabilities of the printed page vs digital screens when it comes to reading. . . especially when young eyes are focused on reading the Bible.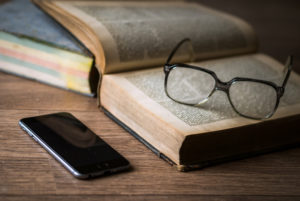 It's a good thing that more and more people are pondering whether or not it matters how our kids access the Bible. The conversation is centered on whether we should encourage kids to read the actual physical bound paper Bible (old school), or off of a digital screen (new school). While we should be thrilled when our kids just read the Bible (on paper or screen!), I have become more convinced of the importance of pointing our kids to the actual physical, printed Bible. It's not an age thing for me. Rather, it's a research thing.
It seems that thanks to digital screens, kids are starting to read differently than before. Reading from a screen promotes cursory reading, hurried and distracted thinking, and shallow learning. And when that screen offers simultaneous access to the Internet, attention is easily broken. Kids are no longer reading in deep, contemplative, and focused ways. . . which is disturbing when you think about how they should be reading the Bible. Maybe the way that we and students prefer to read is really not preferable at all.
A review of the research conducted on paper vs. screen since 1992 found that students are able to better comprehend information in print for texts that are more than a page in length. Scrolling disrupts comprehension. Researchers Patricia Alexander and Lauren Singer took these studies a step further, finding the following. . .
Students overwhelming preferred to read digitally.
Reading was significantly faster online than in print.
Students judged their comprehension as better online than in print.
Paradoxically, overall comprehension was better for print versus digital reading.
The medium didn't matter for general questions (like understanding the main idea of the text).
But when it came to specific questions, comprehension was significantly better when participants read printed texts.
The Bible is a complete story – a redemptive drama – that plays out from Genesis to Revelation. Holding a physical Bible serves to help us see and even feel the rich flow, unity, and context of God's Word. In addition, reading a paper Bible encourages the kind of reading and attention the Bible deserves.
While it might raise our stock value among kids if we choose the screen exclusively, its ultimately learning and spiritual nurture that trumps our stock value. So. . . rather than using screen or paper exclusively, ease them back out of the screen and mix it up with the printed page.
Have any of you been addressing this issue? If so, how's it working?