Teen Vogue magazine is not longer available in print, but it continues to pump out content in its' free online format. In other words, it's accessible. The target audience is girls between the ages of twelve to seventeen. Of course, there are those outside of the target (both younger and older) who access the content online.
Owned by Conde Nast, the magazine's mission and purpose is stated this way. . . "Teen Vogue is the young person's guide to saving the world. We aim to educate, enlighten and empower our audience to create a more inclusive environment (both on-and offline) by amplifying the voices of the unheard, telling stories that normally go untold, and providing resources for teens looking to make a tangible impact in their communities."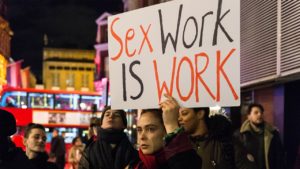 Recently, Teen Vogue's efforts to "educate, enlighten and empower" impressionable kids included an op-ed piece by Dr. Tlaleng Mofokeng of South Africa's Nalane for Reproductive Justice entitled, "Why Sex Work Is Real Work." This is not a joke.
In the piece. . . which for the life of me I can't even imagine why it was included in a magazine for kids. . . Mofokeng argues that sex work (prostitution, sex trafficking, etc.) should be decriminalized globally. She ridiculously argues first that since as a medical doctor she is involved in advising patients on sexual health for payment, she is a sex worker herself. She even asks, "And in some ways, aren't we all?"  She continues, "Sex workers must be affirmed through upholding and the protection of their human rights to autonomy, dignity, fair labor practices, access to evidence-based care. It is for this and many other reasons that I believe sex work and sex worker rights are women's rights, health rights, labor rights, and the litmus test for intersectional feminism."
Mofokeng lets her young readers know that sex work is something that can be legitimately bought and sold. . . "So, what exactly is sex work? Not all sex workers engage in penetrative sex, though, undeniably, that is a big part of sex work. Sex-worker services between consenting adults may include companionship, intimacy, nonsexual role playing, dancing, escorting, and stripping. These roles are often pre-determined, and all parties should be comfortable with them. Many workers take on multiple roles with their clients, and some may get more physical while other interactions that may have started off as sexual could evolve into emotional and psychological bonding. The clients who seek sex workers vary, and they're not just men. The idea of purchasing intimacy and paying for the services can be affirming for many people who need human connection, friendship, and emotional support. Some people may have fantasies and kink preferences that they are able to fulfill with the services of a sex worker."
While the inclusion of the piece in a teen magazine and the reasoning of the piece may seem to you to be morally reprehensible and horribly flawed, think again. Sure, for those of us who hold to a world view that values God-given human dignity, believes in freedom through the embrace of our full humanity as rooted in the image of God, and believes that the pursuit of sexual shalom is God's life-giving will and way. . . well, the op-ed piece is a mark of our continued slide into the insanity of moral schizophrenia. But for those who are growing up in our brave new world built on a foundation of expressive individualism, this is nothing more than an accepted and logical conclusion. Ultimately, we've lost our collective mind.
So what should we do with this?
If you are a youth worker, I'd be making parents aware of the piece in Teen Vogue, along with its' larger moral context. I'd also be letting parents know that even if their kids never access Teen Vogue or read this particular piece, they are engaging with peers who are steeped without thought or critique in this kind of believing and behaving. It will be communicated, lived, and rubbing off in the course of daily life. This is simply the way it is. So, parents must be processing this with their kids in age-appropriate ways.
Which leads to my next bit of advice. . . we must grasp the fact that this is certainly not the way its' supposed to be. God's good gift of sexuality is being distorted and denigrated in a variety of ways. What was once unthinkable is now normalized. But that doesn't mean that normal is or should be acceptable.  We must communicate the truth about sex, sexuality, sexual immorality, and sexual trafficking (both that which is willing, and that which is forced).
I have been wondering when the bottom would fall out on the foundational commonly-held belief that sexual trafficking is despicable and must be undone. Sadly, Teen Vogue is making me wonder if we taken the first horrible step in the direction of the abyss. This is not what it means "to save the world."