You might already be aware that three weeks ago a 90mph overnight police chase ended in. . . yes in. . . our CPYU office. You can go back, read the story, and see some pictures here. As if this isn't crazy enough, it's happened twice. The first time was back in August of 2006 and I was in the room when a car came through my wall at 45mph.
The dust has settled from this latest interruption, and the reconstruction of our place is in full swing. We're grateful that in both instances, nobody was hurt. . . and that's where this little bit of mind-blowing stuff comes into play. I've got pictures to prove it.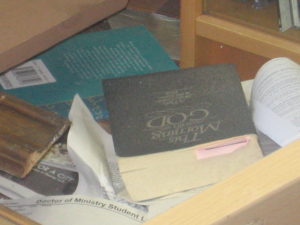 When the first accident happened early in the morning, the Lord used a quick series of circumstances to get me out of my chair and to prompt me to look out my window. The car was only about 20 feet from me, giving me time to jump back and just miss being hit. I was waist deep in stuff. . . never knocked over. . . unhurt. . . and standing in a sea of dust, brick, glass, drywall, office furniture, and books. When I looked down at my legs to see if I was ok, my eyes went immediately to the book (one among hundreds that were strewn on the floor) that was propped up on my left leg. The book was laying there face-up and I saw the title. It was the old devotional This Morning With God. All I could do was laugh a bit. It was a visual reminder of the Lord's protective hand.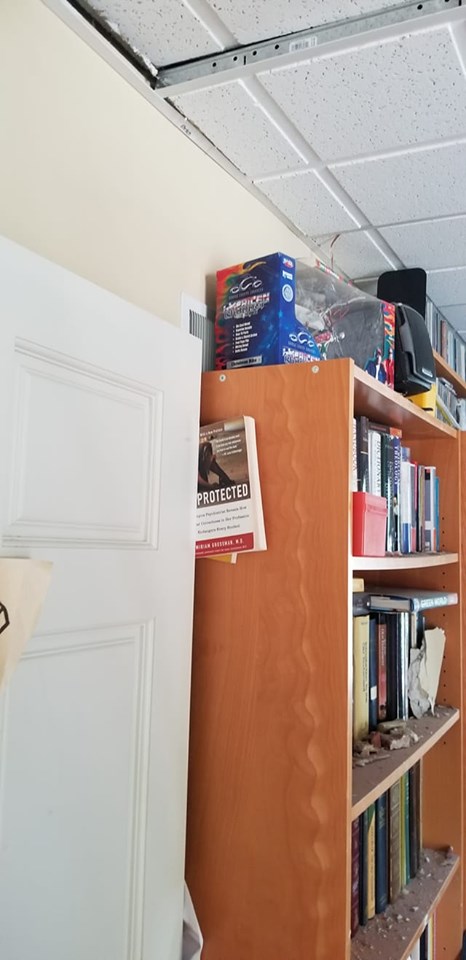 You won't believe what happened with a book this time around. As we were wading into my destroyed office and the mountain of about a thousand or more books that were piled in the mess, I happened to look up and see what you see in this picture. My office door was pushed and wedged up against a book shelf. As the door was being pushed, it caught a book mid-flight, leaving it between the door and the shelf right side up. The book is titled Unprotected. . . but look at what's showing!
I'm not one who looks for this kind of stuff, but when it jumps out at you like this you have to notice.
Never forget that Lord is with you. . . using circumstances for your good and His glory!