Note: the following post is reprinted from our May 2020 edition of our CPYU Parent Page. . . which is available now as a FREE download during the pandemic. Youth workers. . . this is for you so that you can pass this on to parents! You can download the May 2020 CPYU Parent Page here.
So. . . here we are. . . all still trying to navigate the Covid-19 pandemic. In recent weeks I've been listening to parents (on multiple Zoom calls!) talk about the good, the bad, and the ugly that's been coming out of the stay-at-home-and-quarantine order. On the good side, families are spending more time together and rediscovering the joy of eating dinner together. Many families are taking advantage of this activity-free interlude to engage in playing games, getting outside together, and having family devotions. Believe it or not, there are bright spots shining in the midst of this Coronavirus.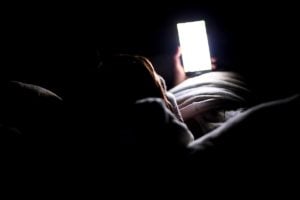 But there's one dark spot I'm hearing about more and more. Long before Covid-19, we were sounding the alarm about how often kids are engaged with their devices, sometimes at the cost of uninterrupted sleep. Now, with Covid-19, our kids tend to go to bed later and use the overnight to kindle the peer-to-peer connections they've lost due to quarantine. I've been hearing this consistently from parents over the past few weeks, and they are looking for insight into how to remedy a situation is undermining physical, emotional, and spiritual health.
We can begin by understanding just how much sleep our kids do need. Researchers tell us that teenagers have always needed just over nine hours of uninterrupted sleep for healthy physical and emotional growth/development. But judging from what the research is telling us about new patterns of adolescent sleep, healthy physical and emotional teenage development is in jeopardy of becoming a thing of the past.
We must also look at the clear and convincing data regarding the fallout from digitally interrupted sleep. These dangers include:
Depression and Anxiety. Counselors who screen patients for depression and anxiety will first ask patients about their sleep. Not getting enough sleep not only leads to depression and anxiety, but will make it worse.
Obesity. People who don't sleep enough tend to crave and eat more food.
Heart Disease. A lack of sleep leads to greater stress, which in turn can elevate blood pressure and increase the risk of strokes and heart disease.
Decreased neurologic function. Not only does a lack of sleep lead to fatigue and decreased attention span, but it also effects driving and reaction time. Sleep impaired driving has been equated to driving while alcohol-impaired with a blood alcohol content of .08%.
Aggressive and inappropriate behavior. When you're tired, you tend to get grumpy.
Parents, we are called by God to nurture our children into spiritual, emotional, relational, and physical maturity in ways that glorify God and equip them to live a God-honoring life. We are called to protect our kids from harm and provide for their well-being. Safeguarding their sleep is our responsibility. And the antidote to digitally-interrupted sleep is simple: Don't let them sleep with their phones in the same room. Let's take advantage of pandemic-time to instill healthy digital habits.