We weren't too far into the Covid-19 panic when glimmers of great hope began to appear in my neighborhood. Kids were riding their bikes up and down the street. Families were taking walks together at all times of the day. We were meeting neighbors. . . distanced, of course. . . that we had never met before. It seemed that in spite of all the negative consequences of the pandemic, there were some good things starting to unfold.
There was something telling me that this was going, in some ways, to be good for us. And, in the midst of all the fears regarding an expected increase in depression and anxiety among our kids, the pandemic might wind up being good for them as well. Of course, viewing the pandemic through the lens of the Bible was what colored my perspective. Even in the midst of the great unknowns I was reminded of the words of the Psalmist in Psalm 119:71 – "My suffering was good for me, for it taught me to pay attention to your decrees." It seems that even in ancient times, people knew that difficult circumstances serve to make us better. I'm old enough to know that to be true.
In today's world, we've really lost our willingness to recognize the potential good that comes out of hardship. We just don't want to believe it. We pursue pleasure and avoid pain. . . at all costs. In their book The Coddling Of The American Mind, Jonathan Haidt and Greg Lukianoff tell us that one of the great "untruths" we believe in today's world is this: that "what doesn't kill you will hurt you". . . which is a reversal of Nietzsche's "What doesn't kill you will make you stronger". . . which is quite biblical and so very true. Read the Bible from cover-to-cover with an eye to experiencing difficulties, afflictions, and suffering. They are instruments in our Redeemer's hands.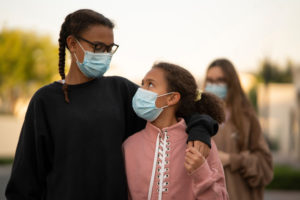 Back in March, we were all, young and old alike, forced out of all the busyness and distractions that have served to undermine our human flourishing. For me, it was a breath of fresh air. That doesn't take away from my concern regarding the great difficulties so many were facing as a result of Covid-19, but it is a recognition of the fact that even though there was something deadly in the air, our retreat from what's become normal forced us into a new normal that lopped off some stuff that was seriously weighing us down.
As I quickly hopped on dozens of Zoom calls with groups of youth workers and parents to talk about youth culture, Covid, and anxiety, I asked parents to run to the Scriptures to see how God uses difficult circumstances to refine us into the people He desires us to be. I asked them to see that for themselves, as I was working to see for myself. And, I asked them to see that for their kids. . . taking this teachable moment opportunity to lead them into a deeper reliance on our providential God.
For me and so many others, there has been a bit of a silver-lining to the pandemic. What is a bad thing has forced us into some good things. Now, early data is showing that there are some ways in which the quarantine has resulted in some positive outcomes for our teens. In a recent article in The Atlantic, Jean Twenge tells us that "teens did surprisingly well in quarantine." Take some time to read Twenge's article. Here are some of the findings. . .
Teens's mental health did not collectively suffer during the pandemic.
The percentage of teens who were depressed or lonely was actually lower in 2020 than in 2018, and the percentage who were unhappy or dissatisfied with life was only slightly higher.
Teens have been sleeping more during the pandemic.
Teens reported increased family time due to parents working from home and the cancellation of outside activities.
Fifty-six percent of teens said they were spending more time talking with their parents than they had before the pandemic.
Fifty-four percent of teens said their families were now eating dinner together more often.
Forty-six percent of teens said they were spending more time with their siblings.
Sixty-eight percent of teens said their families had become closer during the pandemic. . playing games, going outside, eating dinner together.
Surprisingly, teens' technology use did not appear to increase dramatically during the pandemic when compared to 2018. . . which is important to note as screen-time has been associated with mental health issue in teens.
fifty-three percent of teens said that the experience has made them feel stronger and more resilient.
One of our great concerns here at CPYU is that parents are coddling kids and thereby shielding them from the kinds of life challenges and difficulties that they must face at a young age in order to develop healthy habits and resilience for the rest of their lives. In other words, we are setting our kids up for failure.
Could it be that the current pandemic is like a hard reboot that is resetting parents, kids, and families? Resetting them in ways that will lead to their flourishing?
Shortly after the pandemic began, I penned these words to youth workers and parents in a handout we created for parents: This Teachable Moment- Pointing Kids To God's Providence:
"A teachable moment has been thrown into our laps, giving us the opportunity to fulfill our high calling as parents to nurture our children in the Christian faith. To do so will not only help them in their day-to-day efforts in our current health crisis, but it will prepare them for a lifetime of walking through difficult circumstances, pain, suffering, and heartache with a proper outlook and understanding. What we teach them now will help them manage their fears and anxieties not only in these Covid-19 days, but for the rest of their lives!"
I believe that even more now! Let's continue to pray that while people will be spared the suffering related to Covid-19, they will reap the benefits of the Covid-19 quarantine.
If you would like to help families seize this teachable moment in order to facilitate Christian nurture in their homes, check out our growing archive of FREE Family TableTalk devotional downloads.