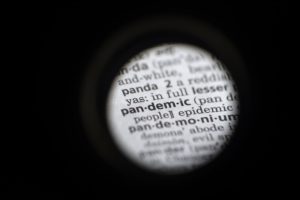 Each and every year, the folks at the Merriam-Webster Dictionary choose a "Word Of The Year." I am always interested to see what word is chosen as it typically reflects a significant cultural development from the prior 12 months. Perhaps it should come as no surprise that the 2020 Word Of The Year is "pandemic." The word is rooted in the Greek and Latin for "pan" meaning "all", and "demos" meaning "people." One thing about 2020 is certain: all people can't help but see the deep pain and brokenness that is woven in and through this world.
As we enter this last month of what's been a very difficult year, we are grateful for the fact that because of the Incarnation that we celebrate in just over three weeks, "pandemic" is not the final word. The writer of Lamentations, after pondering his afflictions and wanderings wrote these words that should be our words as well: "But this I call to mind, and therefore I have hope: The steadfast love of the Lord never ceases; his mercies never come to an end; they are new every morning; great is your faithfulness" (Lamentations 3:21-23).
On this "Giving Tuesday", I want to invite you to partner with us at CPYU in our efforts to equip parents and youth workers to be salt and light in today's youth culture. As a donor-supported non-profit ministry, your gifts fuel our tanks as we move forward to proclaim the hope that is ours in Jesus Christ. . that same hope which the angels proclaimed as good tidings of great joy for all people!
If you would like to "pour some gas in our tanks" today, you can give online here.
Thanks for partnering with us in ministry!