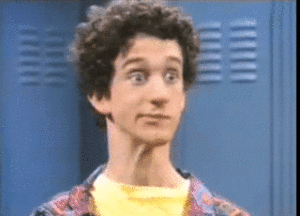 Last night a sad message rippled through the nine-member text thread we have with our adult children and their spouses. A gif featuring a loop of that oh-so-familiar expression from "Saved By The Bell's" Screech, as he stood in front of a blue Bayside High locker, was posted. Right after that a text with just three letters: R.I.P. The first response simply asked, "He died?". The next was a "Yep."
Forty-four-year-old actor Dustin Diamond died yesterday at the young age of 44. Early this year he was diagnosed with Stage 4 cancer. Just a few weeks later he succumbed to the disease. In virtually no time, social media lit up spreading news of Dustin Diamond's death among the millions of fans who loved the fictional high school sitcom during it's initial run from 1989 until 1993. . . and in re-runs, spin-offs, reunions, and revivals during the years since. Dedicated youthful followers of the show "grew up" through their own adolescence with the characters, as far-fetched and silly as the show really was. In many ways, "Saved By The Bell" reflected the trials and travails of teenage life without the benefit of dramatic edginess and disastrous consequences. My own youth group kids embraced the show back when the 80's were coming to a close. In fact, viewing an episode today makes one think of just how much has changed over the course of the last thirty years. Even the conspicuous absence of smartphones at Bayside High is worth noting, a contrast to today's world where Screech's real-life now-all-grown-up peers and those still young spread word of Dustin Diamond's death in literally minutes through social media.
If you're familiar with Dustin Diamond's bio you know that his short life was filled with all kinds of controversy and brokenness, much of it fueled by the choices he made over the years. It's a sad story that clearly reflects the fallenness woven through every nook and cranny of our world. Like many child stars before him, the story is one that's familiar: the life of celebrity that so many kids aspire to is really not all that it's cracked up to be. There are talking points there, for sure.
But what hit me most as I digested that initial gif and subsequently scrolled through news stories and other retrospectives was perhaps unique to me, but something I believe worth sharing. Screech Powers was a contemporary of the kids I was ministering to at the time. When "Saved By The Bell" debuted in August of 1989, Dustin Diamond was just a 12-year-old actor. Over thirty years have passed since then and Diamond, along with my youth group kids, grew up. Those years have passed fast. . . in a blink almost. And pondering Diamond's death serves to remind me that what the Scriptures say is true: life is a like a mist that appears for a little time. . . and then vanishes (James 4:14). It's for that reason that the Psalmist reminds us that we are to "number our days that we may get a heart of wisdom" (Psalm 90:12). It's not just the days of our own lives that we must number, but the days of the lives of our kids. They are all short, indeed.
On Sunday, the day before Dustin Diamond's death, I had a very meaningful hallway conversation with a father who was waiting for his three-year-old son to emerge from the Sunday School class my wife teaches. I have the privilege of helping out in there from time to time. A couple of weeks ago I was in there sitting at a tiny table on a tiny chair surrounded by three-year-olds who were listening to my wife as she taught them from the Scriptures, led them in song, and walked them through some Catechism questions. Before we got to the craft and snack. . . the two parts of the class that I'm there to help with. . . I slowly glanced around the table at the faces. . . each one uniquely gifted but all reflecting the glorious image of God. Then, I did as I have been doing for decades when I'm with kids of any age. . . I wondered and I prayed. I wondered how these kids would manage growing up in today's world. What paths would they choose to follow? Who would they be in 13 years, 20 years, and 30 years? Who will step up to guide them? And, what guidance will those who step up give? I shared this with that father of that dear little three-year-old boy. I don't remember exactly how we left it, but I do know that we agreed that prayer, Christian nurture, and loving relationships with adult followers of Jesus are essential.
And this is where Dustin Diamond's death has me thinking this morning about my peers in youth ministry. Life is short. Our moments are precious gifts. Our calling is to invest in the lives of kids. . . pointing them not to ourselves, but serving as signposts pointing to the cross and a life of faithfully following Jesus Christ. Perhaps we should take stock of our ministry time and make adjustments where we are wasting these precious moments. Perhaps we should think and pray ahead in ways that lead us to pursue a deep knowledge of and commitment to the Incarnate Word and written Word, tending to the growth of our own selves so that we might lead and teach kids out of that rich depth that we are living in ourselves.
Let me be blunt here: I fear that we have a growing tendency in youth ministry to compromise our precious time and to compromise the difficult yet life-giving truths of God's Word. Let us all be reminded of a calling that is ours. . . that same calling that Paul communicated to Timothy: "I charge you in the presence of God and of Christ Jesus, who is to judge the living and the dead, and by his appearing and his kingdom: preach the word; be ready in season and out of season; reprove, rebuke, and exhort, with complete patience and teaching. For the time is coming when people will not endure sound teaching, but having itching ears they will accumulate for themselves teachers to suit their own passions, and will turn away from listening to the truth and wander off into myths. As for you, always be sober-minded, endure suffering, do the work of an evangelist, fulfill your ministry" (2 Timothy 4:1-5).