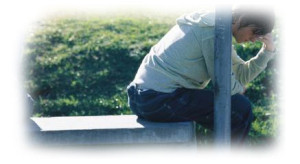 I'm changing names and places, but the story is true. So true that it kept me awake one night recently.
I was speaking to parents and youth workers in a community far from our office here in PA. The back of the large auditorium was empty, except for one person in the back right corner. I didn't have my glasses on and the distance was far. My eyesight is good enough, however, to make out that the person was moving around a bit. Sitting on the floor, against the wall, in a seat, and then back on the floor a few times again. It wasn't distracting. Just unusual.
Towards the end of my presentation on youth culture I decided to throw up some slides and offer some explanation that isn't usually a part of a three-hour talk. This time, however, I decided to include it. In hindsight, I know now that these were not my plans nor were they simply a hunch. My little diversion out of the ordinary was a focus on the world of online pornography. How our kids seem to find it. How it seems to find them. And what it does to them both now and for the long-term.
At the end of the evening with Q and A over and the room mostly empty save for a few stragglers, a woman came to me and asked if I would be willing to speak with her fifteen-year-old son. "Of course." Then she left the room. I soon realized that the fifteen-year-old who had expressed a desire to talk with me was the person who had been moving around in the back corner of the room.
I'll call him Seth. A high school student, Seth appeared to be an obvious target for any teen bent on making themselves feel better by harassing the weakest of the weak. There were some communication issues. Some physical issues. And more, God bless him.
In our conversation, Seth showed a deep desire to please God. I'll spare you the details, but it was my short detour into speaking about pornography that God used to have Seth seek me out. All I can say is that Seth's story is horrid. What was done to him and how that has shaped him in his 15 short years. . . horrid. Sin perpetrated on a young victim not only caused tremendous pain and confusion, but that sin begat multi-layered sin in Seth's life. . . and Seth told me he wanted to break free.
After spending time with Seth I invited a third person into the conversation. . . . someone from the community who loves Christ, who is well connected, and who has committed to walk what's going to be a very difficult road with Seth, getting this extremely lovable and broken young man the help he needs. Still, I went back to my hotel room and had a difficult time sleeping. Why does this kind of crap have to happen? Why does it have to happen so much?
This is why we do what we do. To those of you who pray for us at CPYU. . . and to those of you who partner with us to make what we do happen. . . thanks. God is at work, undoing what's been broken in this world. Pray for Seth, will you?