Is it really possible that there are places in this world where there's a higher concentration of thinking Christians? Yes. I was at one such place over the weekend. The Grand Rapids, Michigan metro area is a place I've grown to love over the years. Populated years ago by Dutch Reformed Christians, Grand Rapids is jokingly referred to by some as "GRusalem." There's a high concentration of churches, schools, and Christian colleges (Calvin, Hope, Cornerstone, Kuyper, etc.). I was out there to spend time with parents, youth workers, and youth ministry students thanks to guys I've come to know and love over the years like Duane Smith, Ty Houge, and Brian Telzerow. My visits are always filled with encouraging and thought-provoking conversations and encounters. . . enough to make my head spin. This visit was no exception, with my head spinning several times. . . four that I'd like to recount.
#1. There was my early morning roundtable with youth workers at the Panera in Holland (by the way. . . a small town with the most beautiful main street I've ever seen in my life). So we're sitting around chatting about the state of youth ministry. . . joys, hopes, victories, struggles, frustrations, etc. While locked in the midst of talking about the bigger and better youth ministry cycle that we've come to believe is normal and right, one of the guys asked, "How can I compete with MTV?" How many times have I heard that question?!? "MTV" has come to represent all the flashy time-consuming and attention-grabbing technological and entertainment advances that fill our kids' time, hearts, and minds. We try to keep up, don't we? Trust me, I know. I've been into some pretty fancy big-church youth facilities (note: we now call them "facilities" and not "rooms"). The little-guy with the youth room gets frustrated. I'm happy to see that more and more of the big guys are getting frustrated as well. They realize that even though they've done a pretty good job of competing with MTV when it comes to all the flashy accouterments, spiritual growth hasn't been the result. What we've accomplished is getting and holding youthful attention. . . until they look away to the next thing. So the original question made my head spin. . . and then it stopped spinning on this. . . "We can't compete with MTV. Only the Gospel can. . . and the life-giving Gospel trumps it big time." It made me think about something I hear Duffy Robbins say all the time: "What we win them with is what we win them to."
#2. Still sitting around the table at Panera. As I listened to what everyone was saying regarding their frustrations, lack of spiritual growth, etc. I couldn't help but go back to the 3-word mantra I heard in a 1976 college Youth Min class that was taught by a Geneva College Bible prof who had no youth ministry experience at all. He taught right out of the only youth ministry textbook that had ever been written at that point in time. That book still sits on my shelf. It was creatively titled. . . . Youth Ministry and it was written by Larry Richards. The 3-word mantra that still holds true today but has seemingly been forgotten is this: "people not programs." Hmmm. If only we had listened. What is it that we've focused on? And "programs" includes buildings, equipment, etc.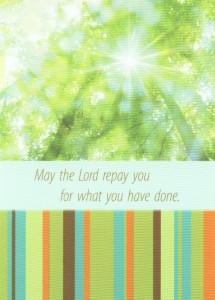 #3. I go straight from Panera with Ty to a large Christian bookstore that sits nearby. I'm looking for some Thank-You cards so that I can send out notes to a few of our CPYU supporters. Ty and I are looking through the stacks of Thank-You cards and he tosses me one that has me doing a double-take. There printed on the front is a quote that makes my head spin: "May the Lord repay you for what you have done." I wouldn't send that one to anyone other than an enemy. I would be quaking in my boots if I received that card in the mail. Everything I've done is deserving of death. I don't want the Lord repaying me for that. Thank God for his grace and the gift of his son. Thank God I'm getting what I don't deserve.
#4. I arrive at Kuyper College and walk into the chapel. Immediately I look up and see an amazing hanging light that's been made by the school's president. It is absolutely beautiful. The words on it make my head spin for the fourth time that day. Shaped like a compass and crafted out of wood from every continent, the light is encircled by that profound quote from the college's namesake, Abraham Kuyper: "There is not a square inch in the whole domain of our human existence over which Christ, who is sovereign over all, does not cry. . . " and then carved in large letters in the middle of the light. . . . "MINE!"
I leave Western Michigan encouraged, refocused, and reassured. It's good to be with thinking and loving Christians.