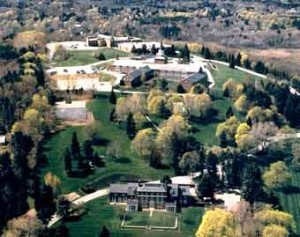 This is something that's got me very, very excited. I'm thrilled to tell you that a hope, prayer, and dream shared by many has become a reality. Today we are announcing the start of a brand new Doctor of Ministry track at Gordon-Conwell Theological Seminary in Ministry to Emerging Generations. Over the course of the past several years many of you have asked about the possibility of going deeper with us here at CPYU in a more formal educational setting. This new Doctor of Ministry track meets that need for those of you who wish to pursue further education at a high level above and beyond what we could pull off here alone at CPYU. I will be co-mentoring this track with Dr. Steven Kang from Gordon-Conwell. I am especially excited as Gordon-Conwell has played a huge role in my own theological education. The fingerprint of the seminary is all over what we do here at CPYU.
If you have any interest at all, please take a few minutes to read on. . . .
The cohort will begin in January of next year which means that those of you who would like to be a part of this first group should get on it now if you want to apply. The descriptor on the GCTS website reads, "Jesus commands his followers to "go and make disciples of all nations." Fulfilling the Great Commission in a rapidly changing, post-Christian world requires the church to think seriously about responding to the unique "nation" and culture of young people living in our midst. We need also to develop effective paradigms for understanding and reaching cultures of future emerging generations. In fact, the label "Emerging generations" is no longer limited to just teenagers. In addition, "adolescence" is no longer limited to those whose chronological age places them in their middle and high school years. Our growing understanding of early, middle, and extended adolescence has expanded the boundaries on both ends, resulting in a world where youth culture is shaping individuals in the emerging generations from birth through young adulthood.
This track will help those ministering to the emerging generations – youth pastors, children's ministers, college/young adult ministers, and pastors – to work through the practical implications of living obediently to the Great Commission of Jesus Christ in today's rapidly changing cultural context (including the changes yet to come). Members of the cohort will be equipped to embrace the task of "dual listening" as defined by John Stott: "We stand between the Word and the world with consequent obligation to listen to both. We listen to the Word to discover even more of the riches of Christ. We listen to the world in order to discern which of Christ's riches are needed most and how to present them in their best light." (The Contemporary Christian)
You can read more about the program and find links to apply by clicking here. I am looking forward to spending a few years with several of you in this program and am exicted about what God has in store for those who do.
If you have any questions, email the GCTS DMin Admissions Office at dmininfo@gcts.edu, or fill out the online admissions request form.