Two months ago I flipped my desk calendar ahead until I was looking at April, 2009. I made a couple of notations so that in the midst of the normal busyness of the month I wouldn't forget a couple of important dates. As I blogged last week, this past Sunday night marked 15 years since Kurt Cobain – the mouthpiece for a generation – took his own life. I also wrote a note to myself in the square labeled "April 20." That's when it will be ten years since Columbine, an event so etched into modern American history that most of us don't think of the Columbine flower, but the massacre that occurred at the Colorado school named for that flower.
Then, late last week, my reading opened my eyes to another sad anniversary of horrible, horrible events that commenced 15 years ago tonight. Let me back up a minute. Next month I'm joining a group of close friends for a trip to a place I've never been before. . . Africa. I heard a lot about Africa from the missionaries who stayed with our family from time to time when I was a young boy. In my childish mind it was a primitive place on the other side of the world. To be honest, I was rarely fascinated by the missionaries stories about the spread of the Gospel to this world I found hard to imagine. A young boy, I was more interested in the native costumes, carvings, and primitive looking knives that our missionary friends showed us and even at times left with our family. Those early impressions and stereotypes are hard to shake. But in preparation for our trip to visit Compassion International child care projects in Kenya and Rawanda, I've embarked on a conscious journey to break through long-held impressions to a more realistic understanding of what I'll be seeing.
Last week, that journey took me through some books on the genocide in Rawanda, something I'm embarassed to say I knew very little about. I began with Philip Gourevitch's We Wish To Inform You That Tommorrow We Will Be Killed With Our Families, a book that offers a gut-wrenching history of the Rawandan genocide and its political/racial roots. The only word I can use to explain what I read is "horrifying." Then, I turned to Immaculee Ilibagiza's Left to Tell: Discovering God Amidst the Rawandan Holocaust. Ilibagiza tells the story of the Rawandan genocide as she experienced it. "Horrifying" doesn't even come close to describing what I read.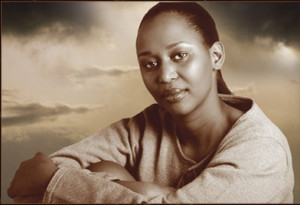 As I began reading Ilibagiza's second book, Led By Faith: Rising From the Ashes of the Rwandan Genocide, my mind was filled with questions. . . . questions for which I don't expect to get answers anytime soon. How can the human heart be so dark? How can a human being survive what Ilibagiza experienced? How come I heard (or chose to hear) little on nothing about this when it was happening? How could this have happened and how could the world have turned its collective head?
Fifteen years ago tonight, the Rawandan genocide of 1994 began. Within 100 days over a million people had been murdered, most of them hacked to death limb by limb with machetes. And the world that for less than fifty years had been chanting the mantra "never again," stood by and let it happen. For over 90 days, Ilibagiza hid in a three-foot by four-foot bathroom. . . not alone, but with 5 other human beings. After several weeks, two more joined them. During that time, she sought God's face and divine protection. Her story is equally horrifying and amazing.
And so tonight I'm thinking about what happened fifteen years ago, the lessons about God and humanity that can be learned, and what it's going to be like to step on ground still soaked with human blood. I wonder what I will feel, and hope that I will not be so jaded to feel nothing but numbness. I want to learn something about myself and the God who has called me to be His own. I want the ignorance and prejudice of my childhood to be blasted into oblivion. I want to gain perspective. I want to know why our news networks offer non-stop coverage of a high profile suicide, a campus massacre, the murderous rampage of a Binghamton refugee, the killing of three Pittsburgh policemen. . . . all horrible things. . . . but then we pay little or no attention to the destruction of 1 million people over the course of three months.