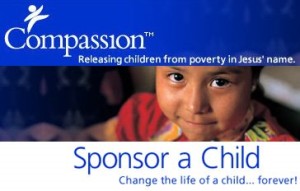 I'm anticipating that in two weeks I'm going to be a different person. . . and I'm not sure what it's all going to look like. In a few days I'm heading to Africa with some close friends in the world of youth ministry. We're going with Compassion International to Kenya and Rwanda. Our mission is to learn as much as we can about Compassion's work with children in these horribly impoverished countries so that we might come back and serve more effectively and passionately as ambassadors for Compassion's valuable life-saving work.
My preparation has been physical and spiritual. The physical side of things has included several rounds of needles filled with all kinds of immunizations for all kinds of deadly and debilitating diseases. Each and every time I think about the shots there are two things that cross my mind: 1) I'm being protected from things that these people face, live with, and die with each and every day, and 2)The hundreds of dollars Lisa and I have spent on our shots in preparation for our short visit totals more money that most of the people we will meet on our trip live on over the course of several years.
The spiritual side of the preparation can be summarized in the prayer that I find myself praying over and over again: "Lord, do something in my life. . . and let it be whatever you will." Quite honestly, knowing I have yet to hear the answer leaves me both excited and nervous.
I've also been reading quite a bit in preparation for the trip. . . background stuff on the two countries we're going to visit. Kenya is filled with poverty. I will be seeing things I've never seen before. Rwanda was filled with violence. In 1994, 800,000 to 1 million people were killed – most of them macheted to death – over the course of the 100 day genocide. What I've read has made my head spin.
I've also read Gary Haugen's great book, Just Courage. In the book, Haugen tells the story of his friend Sean Litton, a lawyer who decided to put Christ's call – to find one's life by losing it – to the test. Litton walked away from his safe, high-paying and secure job to go to work for Haugen's International Justice Mission, addressing sexual trafficking and child sexual assault in the Philippines. Sean took his wife and two kids along. His life was changed.
But Sean almost didn't go. He says there were four things holding him back. There was his comfort that came with his nice house and all the stuff he had accumulated. There was his security and freedom from danger. There was the control he had over the circumstances of his life. And finally, there was the success he was experiencing in his career. But he let go of comfort, security, control, and success. . . and he took the unsafe option by giving up his life and going to the Phillippines.
What happened? Sean Litton found his life. In exchange for what he gave up he got back adventure, faith, miracles, and a deep knowledge of Jesus. His faith grew and solidified in ways he could have never imagined.
I am challenged. And, I'll let you know how it's going. We covet your prayers.