Before leaving for our trip to Kenya and Rwanda with Compassion International four weeks ago, I had several people tell me how the trip would change my life. A handful of people actually used these words: "Africa will get in your blood." I had no idea what that meant. . . although I was hoping that the expensive and time-consuming regimen of shots and oral medications would keep certain parts of our African travel out of my blood!
We returned from Africa two weeks ago last night. While laying in bed last night reading yet another book on Rwanda and the genocide, it suddenly dawned on me that what those folks had predicted was accurate. Most of my media time over the course of the last fourteen days has been spent watching and reading anything and everything I can get my hands on regarding Rwanda and the genocide. I've watched three amazing films. HBO's Sometimes In April, Frontline's Ghosts of Rwanda (horrifying), and Hotel Rwanda. Along with the books and our visit, these films have helped me get to the place where I'm finally able to begin getting my hands around what is a very complex story with a long, long history. Of course, we learn from history. . . or at least we should. That's why I'm always telling my kids to pay attention in History class. Well, that and the fact that I didn't listen when I was their age.
But here's the best thing about history: it continues. And we have the opportunity to respond to what has happened, by shaping what is yet to happen. We may not have control over the course of history, but our convictions and resulting decisions allow us to shape those moments in history God – in His great grace – allows us to be a part of. And that's what so amazing about what's now happening Rwanda. . . and what I hope has gotten and will be getting in my blood.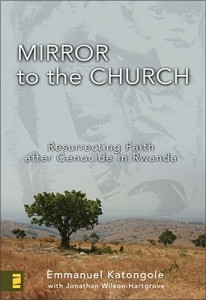 The book I finished reading in bed last night is probably not very well known or very widely read. To be honest, I would most likely never have picked it up if I hadn't gone to Rwanda myself. . . and if someone from Compassion hadn't recommended it to me as post-trip reading. The book is titled Mirror to the Church: Resurrecting Faith after Genocide in Rwanda, and it's written by Emmanuel Katongole, a Catholic priest from Uganda who is an associate research professor of theology and world Christianity at Duke University. It's one of those short books that packs a powerful punch. Katongole offers a clear and insightful history of what happened in Rwanda before the genocide, including the fast advance of Christianity. He then offers compelling analysis of what happened during the genocide, particularly amongs Christians, who were using machetes to violently kill one another. But Katongole doesn't stop there. He challenges us to learn lessons from this ugly history. He challenges us to never think that "I'd never do that!" or "That will never happen here!"
Last night I read these words in Mirror to the Church: "Maybe the deepest tragedy of the Rwandan genocide is that Christianity didn't seem to make any difference. Rwandans performed a script that had shaped them more deeply than the biblical story had. Behind the silences of the genocide, Hutus and Tutsis alike were shaped by a story that held their imagination captive." Then, Katongole goes on to offer this challenge: "Paying attention to history helps us to see that this was not just Rwanda's problem. The story that made Rwanda is the story of the West. When we look at Rwanda as a mirror to the church, it helps us realize what little consequence the biblical story has on the way Christians live their lives in the West. As Christians, we cannot remember the Rwandan genocide without admitting that the gospel did not seem to have a real impact on most Rwandan's lives. Seeing this, we have to ask: does Christianity make any real difference in the West?" Wow.
A few pages later, Katongole rocks our safe and secure little understanding (or more accurately, misunderstanding) of the Christian faith again, when he quotes one of my heroes of the faith, John Perkins: "We have over-evangelized the world too lightly." Wow again. "Much of what has gone out in the name of Christianity is evanglism-lite. Or to say it differently, the church has only half-fulfilled the Great Commission. We've gone out preaching Jesus, but we haven't been able to 'teach them to obey everything' he commanded."
But another look at how Rwandan's are redeeming the genocide and writing a "present" that will hopefully be remembered in history as truly Christian, offers proof that we can and must make change, and we can and must start with ourselves.
Yesterday the latest issue of Christianity Today magazine arrived at my house (and it's another good issue by the way). One article directly references and explains some of what we saw happening when we were in Rwanda. . . and it was so amazing that it was stunning. Mark Moring's piece, "Reconcilable Differences: Fifteen Years After Genocide, Rwanda is Showing Signs of Healing," is all about correcting the flow of history by deciding to go deeper by being obedient. A picture that accompanies the article tells a powerful story. Sitting on a bicycle seat is Marc Sahabo, a Hutu who got all wrapped up in Hutu Power during the genocide. Using a machete, this man killed 15 people during the genocide. Sitting side-saddle on the rear of the same bike is Felicita Mukabakunda, a Tutsi woman who was a neighbor and friend of Sahabo's before the genocide. When the genocide began, Felicita hid in the marshes. While hiding, she heard Sahabo and others formulating their plans to find her and kill her. However, before killing her, they were going to take turns raping her. She also heard Sabaho say that he had killed six of her family members, including her father and uncle. After the genocide, Felicita returned home to discover that 29 of her family members, including 16 of her brothers and sisters had been killed.
And now, they are photographed sitting on a bike together. . . a bike they ride together from town to town to tell their story. That story is a story of repentance and forgiveness. It's a story about what it means to dig deep into the faith and to be obedient to one's calling as a follower of Christ. It's about integrating faith into all of life and doing what is right, rather than what feels right. Mark Moring's article makes it clear that this is a long and involved process that is in no way easy. But it is right. This is Christianity-heavy, not Christianity-lite.
Something amazing is happening in Rwanda. It's got to get into our blood.