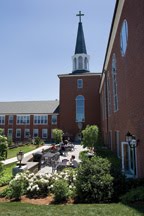 Over the weekend I and over 42,000 other people read an interesting tweet from Rick Warren. It said, "It takes about 10 yrs of local church pastoring to lose the arrogance u pick up in seminary, otherwise u likely won't lose it." Fully aware that there are a multitude of dangers related to tweeting stand-alone sentences and thoughts like this, I didn't want to risk mis-interpreting what Warren was hoping to convey. I've been chewing on his tweet for a couple of days and am struggling deeply with what he said and the implications for the generation of young leaders who are trying to figure out whether or not to engage with a seminary education. Sadly,I'm afraid that Warren's tweet will only serve to justify and feed the anti-seminary attitude that so many already have.
To be fair, a couple of tweets later Warren did say that "seminary teaches u to THINK & learn essential tools u dont know u need yet. Just beware 'Knowledge puffs up.'" I was grateful he passed on this fact that was certainly one of the many benefits I took from my own seminary education. . . . along with the warning. But I'm still troubled by that first tweet. . . so I thought I'd jot some thoughts for those who might quickly embrace and believe Warren's words and advice.
First, from a theological perspective, I'm not sure that a seminary education is the thing that makes pastors arrogant. Like the rest of us, pastors are all pretty messed-up people before they even set foot on a seminary campus. A good seminary education that takes the Scriptures seriously will convince you of your own depravity if you are already too arrogant to see it for what it is. Seminary doesn't make people arrogant. In Matthew 15 Jesus has one of his many conversations with the arrogant and pride-filled Pharisees and teachers of the law. While the context is all about ritual cleansing, there's a theological reality Jesus passes on about all of life. It's not the seminary education that goes into a person that makes them arrogant, but the arrogance that's already in there that rises up out of their hearts. Don't blame seminary. Arrogant pastors were arrogant people long before they went to seminary.
Second, I think time spent in seminary and 10 years on a church staff are really all about the never-ending process of learning how much you don't know, rather than getting puffed up about what you do know. If that's not happening to you during the process, then maybe it's time for a heart check. I remember walking up the steps of the library at Gordon-Conwell a few days before graduation. A friend and I were conversing about our education and what we had learned during our years on campus. We both agreed that the biggest thing we were going to take away from our seminary education was this: how much we don't know. I said, "I wish I knew as much now as I thought I knew when I first enrolled here." It was very humbling.
Finally, I want to offer some encouraging words to those who are pondering or have pondered a seminary education, but might be holding back due to any number of reasons (fear, cost, time investment, getting messed up, etc.). DO IT! If you are planning on spending a lifetime in ministry and you've been called to – as John Stott says – serve as a bridge between two worlds by bringing the light of God's Word to bear on people living in our times, you'd better equip yourself with the tools to understand and apply God's Word through teaching, preaching, and conversations.
I have found it personally helpful to be constantly reminding myself that I don't know as much as I think I know, that I'll never run out of things to know, and that I can never stop being a learner. For that reason, a good seminary education is worth infinitely more than it costs in dollars, cents, effort, and time.