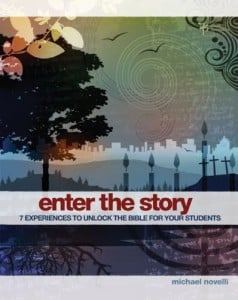 I'm in a generous mood! So, we decided that this week we'd randomly choose a couple of followers of Learning My Lines to win a couple of books as a "thank you" for their loyalty to this blog. So BRANDON SCHNEIDER, you're today's winner! To claim your books, post a comment with your snail mail address and we'll get your books in the mail. By the way, we won't post your comment for all to see. . . that'll keep the stalkers and book thieves away from your place!
What did you win? . . . A copy of Michael Novelli's brand new "Enter the Story: 7 Experiences to Unlock the Bible For Your Students," a copy of Gordon Fee and Douglas Stuart's "How To Read The Bible For All It's Worth" (one of my all-time favorites with over 500,000 sold), and a copy of some guy's "The Space Between: A Parent's Guide to Teenage Development."
Congrats Brandon! Can't wait to hear from you.
And for the rest of you, another Learning My Lines follower will be a winner later this week.