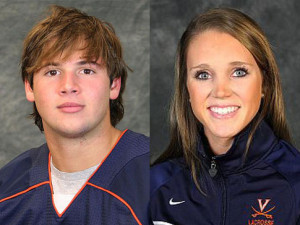 It was only a matter of time before Michael Preston appeared on national television to say what we all – including me – want so desperately to believe about each other and ourselves. Preston was a childhood friend of George Huguely, the University of Virginia lacrosse player who has been arrested and charged with the brutal murder of UVA women's lacrosse player Yeardley Love.
This morning, a host of disturbing new details in the unfolding case are being reported on media outlets everywhere. I happened to tune into NBC's The Today Show, where I watched an eight-plus minute story that included an interview with Michael Preston about three minutes and 15 seconds into the piece. Preston repeated what's become the standard line from associates and friends of accused perpetrators in all kinds of cases: that the George Huguely he knew was "not capable of doing something like this."
I used to believe the same thing not only about everyone I knew, but about myself. It wasn't even something I had to think about in order to believe. It was just inherent in the fabric of how I thought about life. But three things changed all that. . . and I'm not sure in what order.
First, there's a basic theological understanding of human nature. Most of us just grow up believing that people are inherently good. That commonly-held cultural belief informs not only how we live each and every day, but our response to the bad stuff that happens in the world. At the very least, it leads us to believe that "I would never do anything like that!" But the script that recounts the divine drama unfolding around us and in us tells us the truth. . . and the truth tells us otherwise. Believe it or not, our natures are evil. David reminds us that we are "brought forth in iniquity" and that in sin we are conceived (Psalm 51:5). In fact, the entire script of the divine drama from Genesis 3:6 on lays out God's wonderful plan to redeem us from the prison of this reality.
Second, there's my lifetime-long swing from looking at the world and people through rose-colored glasses of optimism, to a realism about human nature that's been shaped by an increasingly populated history of people I know and love doing things beyond imagination or belief. Seen in light of the aforementioned theological understanding, the proof is piling up. And, it's undeniable.
Then, there's the third reality I've had to reckon with. Simply stated, it's me. The older I get, the more clearly I see the darkness in my own heart. And, it scares me that I don't see it as it really is. As much as I hate it, the reality is that I'm "exhibit A."
So, while Michael Preston might truly believe what he's saying, the truth is that what he's saying shouldn't be believed. His buddy George is diseased. . . and the diagnosis extends to all of us. . . who are all capable of not only doing something like this, but stuff that's even worse.
It isn't coincidence that I came into the office this morning to find an article on my chair. Derek Melleby put it there as a contribution to some conversations we've been having around here lately. Written by Vincent Bacote for the latest edition of Comment Magazine, "The Poison Cup" offers some very insightful reflections on how our depravity combines with failures in the Christian community to provide real nurturing community in a lethal mix that feeds the assassin of pride. . . who when fed enough, will kill us. Using John Piper's recent leave of absence as the occasion for his reflections, Bacote offers some penetrating analysis that can't be ignored by any of us, especially those of us who because of our calling are public figures. . . including everyone from high-profile guys like Piper down to the local church youth pastor who is adored by his young flock. Bacote's article is a must-read.
Don't ever buy the lie that the people you know could never ________________ (fill in the blank). . . . especially if that person is you. And shouldn't this be a foundational truth we must be endeavoring to teach our kids? Not only will it inform how they live, but it will serve to feed their conscious need for the Savior and a deep gratitude for His amazing grace.