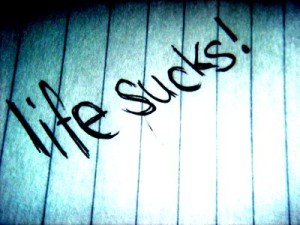 Right now I'm at the point in my yearly cycle of things where the travel is winding down and I'm looking forward to a summer of decompression. It's also a time to look back at the busy months that have passed since last summer ended. I think about lots of things. What I think about most are the face-to-face conversations I've had with people during my travels. The conversations I think about most are the ones where I've simply listened while the person across from me tells a story of deep pain and brokenness. Sometimes it's a watery-eyed parent. At times, it's a confused and hurting kid. They're all pretty beat up. Entering into the endless string of these stories at the most basic level of simply listening is like jumping into the ring for a 12-round fight. Each story is a new blow that piles up on previous punches to slowly wear you down. I'm old enough now to realize that this is life. . . that this stuff is inevitable. . . that – as I've heard a number of my young friends say it with blatant honesty – "life sucks." My own story has enough of this stuff woven in and through it, but my unique personal version isn't nearly as bad as most of what I hear.
The other day I received a little package in the mail from the publicity folks at Multnomah. Inside were a couple of booklets featuring text from some of the publisher's newer releases. One of them grabbed my attention quickly. The title on the cover asks the question so many of ask as we live a world where the reality that "life sucks" continues to unfold around us and in us. If God is Good Why Do We Hurt? The title is from Randy Alcorn's larger new book, If God is Good. . . Faith in the Midst of Suffering and Evil. I've developed a real appreciation for Alcorn while reading his wonderful book, Heaven.
In the Intro to this little booklet, Alcorn says something to readers that presents us all with a watershed moment of decision that will deeply effect our response to the reality of life's sometimes horrific and debilitating difficulties: "I frequently quote Scripture in these pages. As you read along, I urge you not to let your feelings – real as they are – invalidate your need to let the truth of God's words guide your thinking. Remember that the path to your heart travels through your mind. Truth matters."
Read that one more time. Those three sentences capture a reality and offer a challenge that will shape our entire lives. I've always believed this to be the case. In recent years I've come to know myself better – most always as a result of life's difficulties – and I know how important and necessary Alcorn's challenge really is.
A few weeks ago I read another book that addressed this same reality. Joshua Harris – the author most-known for a book I really didn't like, I Kissed Dating Goodbye – has penned a vulnerable and autobiographial challenge to a contemporary American church suffering from self-inflicted truth-starvation, Dug Down Deep – Unearthing What I Believe and Why It Matters. Harris describes the book as an invitation for Christians to jump into the pool of orthodoxy and doctrine, and then to move from the shallow end to the deep end. Why? So that in the midst of living in what many of my young friends describe as a "life sucks" reality we can rest on the solid rock of sound doctrine. Harris is right.
I've got a hope and a hunch that the next wave of emphasis in youth ministry and ministry in general will be a wave that answers the deep hunger we all have to go deep, to live deep lives, and to know that God is. It's nothing new. It's simply the long-overdue recovery and rediscovery of the most basic stuff that's been long forgotten. If we continue to forget, we're in big trouble.