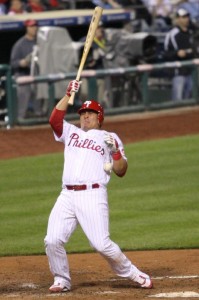 Fun stuff for the weekend. Take a look at this amazing photo from a couple of nights ago at Citizens Bank Park. Lisa, Chris, and myself went down to the game with our CPYU researcher Doug West. Doug has an amazing camera that he's been using to take some equally amazing photos. So, when Carlos Ruiz took one in the ribs . . . ouch! Just take a look at the ball on his side. Nice work Doug!
We love the photo so much that we're running a little caption contest over the weekend. Be creative and just leave your caption as a comment here on the blog. We'll be choosing the winning comment on Monday. The prize will be a nice one.
If you want to check out more of Doug's Phillies photos and some great nature shots, visit him on Facebook.